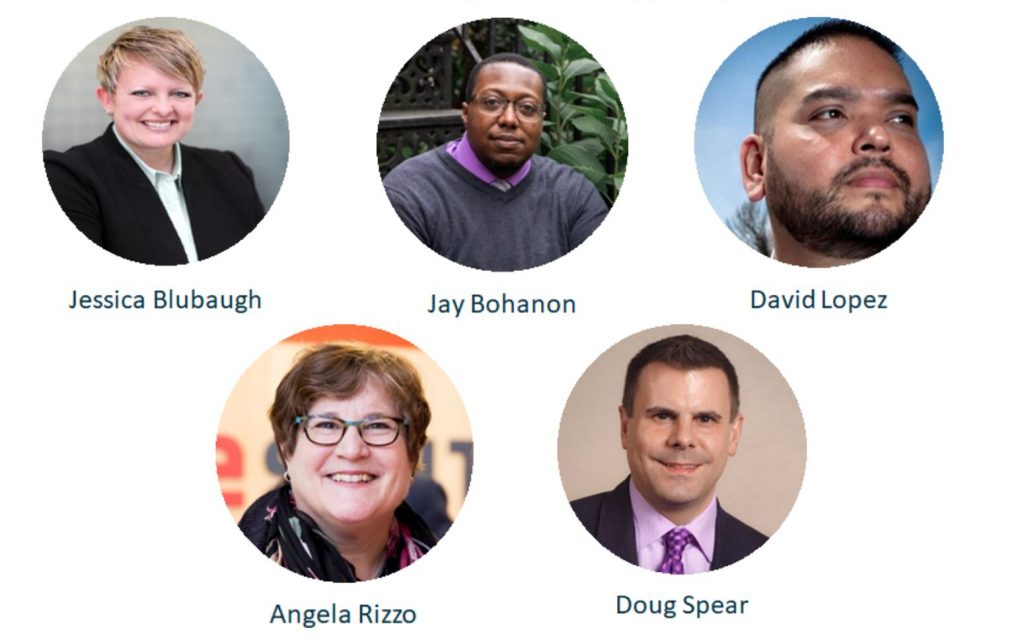 KANSAS CITY, MO - The Mid-America LGBT Chamber of Commerce recently welcomed five new members to their Board of Directors. Board members were presented to the full membership for approval in July and will begin their terms in September 2021.
The new directors include Jessica Blubaugh, Jay Bohanan, David Lopez, Angela Rizzo and Doug Spear; these new additions make this board the most diverse Board of Directors in the Chamber's history.
Jeff Harris, President of the Board of Directors, is eager for the new members to contribute their expertise and talents to the organization. Harris notes, "The Board of Directors is pleased to welcome our new members starting in September, and we're excited to get to work." Harris continues with his appreciation toward this year's candidates' motivation to make a difference: "Each year we have the opportunity to reflect on the expertise we need to be successful, and this year we were gifted with a set of candidates who were engaged, thoughtful, and ready to support our mission." 
Jessica Blubaugh serves as the Director of the Women's Intersport Network (WIN) for KC, a division of the Kansas City Sports Commission and Federation working to empower the lives of girls and women through advocating and promoting the lifetime value of sports and fitness while providing opportunities for participation and leadership development. Blubaugh has spent 18 years in the nonprofit sector, specifically in events and marketing with positions in both New York and Atlanta before returning to Kansas City. In her career, Blubaugh has had the opportunity to work with sports greats like Billie Jean King, Michelle Kwan, Aimee Mullins, Julie Foudy and Jessica Mendoza. Blubaugh serves as President of the Longfellow Community Association and is a recent graduate of the Centurions Leadership Program. She lives in Kansas City with her wife, Julie, and two dogs.
Jay Bohanan serves as the Diversity, Inclusion and Culture Consultant at GEHA.  Most of his professional career has been spent working in various higher education roles including teaching community organizing abroad, working as an admissions counselor and advocating on behalf of LGBTQ+ students, staff and faculty at Vanderbilt University. In all of his roles, Bohanan has always found a way to incorporate his passion for diversity, equity and inclusion. At GEHA, he works to make his organization more inclusive through training, policy proposals and programming. Outside of work, Jay is an amateur Kansas historian, Jayhawks basketball fan, and avid reader of cooking blogs and books. When not in the kitchen you can usually find him listening to a podcast. He is also a co-host of Religiously Literate, a podcast aimed at spreading religious literacy so that we see just how similar we really are.
David Lopez serves as a Facilities Management Coordinator for Zurich North America, overseeing multiple properties throughout the country. Lopez is active in the community and has a passion for raising awareness for the community and nonprofit organizations, including the Kansas City Center for Inclusion, Kansas City Anti-Violence Project and the Mid-America Freedom Band. Lopez was a 2016 recipient of the Spirit of Pride Award, awarded to one that personifies Pride -- living openly and fearlessly every day. Lopez is one of the founding members of the Kansas City Bear Mafia, a local 501(c)3 organization providing opportunities to build and bring better resources for bears and their allies in the KC metro area. Lopez lives in Lenexa with his husband of 20 years, Greg, and their loveable dog Peeve.
Angela Rizzo's career spans over 35 years in technology. She has worked for start-ups as well as Fortune 100 companies including Sprint, Electronic Data Systems, Hewlett Packard, Hewlett Packard Enterprise, Loudcloud, and Northpoint. Her most recent assignment was at eSentire, one of the leading cybersecurity Managed Detection and Response companies where she served as Chief Marketing Officer. Angela enjoys serving her community on non-profit boards and strengthening the LGBTQ+ community. Her board service includes six years at the Mid-America Assistance Coalition and she is currently in her fourth year on the board of SAVE, Inc. Her community work includes the establishment of the Kansas City Chapter of the Human Rights Campaign and she served as a mentor in the first cohort of the Mid-America LGBT Chamber of Commerce Metzler Mentorship Program. Angela and her wife, Jennifer live in Leawood, Kansas.
Doug Spear has 25 years of experience in marketing and communications strategy development and execution in for-profit and not-for-profit industries. He began his career with legendary toy retailer FAO Schwarz where he served as Public Relations Manager for the Kansas City and Las Vegas markets. He then spent four years at KCPT Public Television 19 as Director of Special Events, where he created numerous successful fundraisers to support the organization's mission. In 2003, Doug came to AdventHealth serving in their Foundation and is now an administrator overseeing multiple departments including Marketing & Communications, Government Relations, Community Benefit and Wellness. He's actively involved in community and professional organizations and serves on the boards of the Leawood Chamber of Commerce, YMCA of Greater Kansas City and the Blue Valley Educational Foundation.
Steve Hills, Board Director of Diversity and Inclusion for the Mid-America LGBT Chamber of Commerce, notes the importance these new board members has on the Chamber's mission to be inclusive: "We believe that Mid-America LGBT Chamber of Commerce can better achieve its mission by drawing on the skills, talents, and perspectives of a broad and diverse range of leaders and that the diversity of viewpoints that comes from different life experiences and cultural backgrounds strengthens board deliberations and decision making." He especially feels that these five new members will propel us forward: "We're excited to add more diverse voices to our board and look forward to rolling up our sleeves and getting to work for our members!"      
About the Chamber
The Mid-America LGBT Chamber of Commerce is a proud affiliate of the National LGBT Chamber of Commerce and exists to advocate, promote and facilitate the success of the LGBT business community and their allies through the guiding principles of equality, inclusion, economics and education. Through membership, networking and professional development programming, the Chamber seeks to foster a more inclusive and vibrant economy in Kansas City and the surrounding region.
Contact Information
For all general and media inquiries, please contact the office of the Executive Director of the Mid-America LGBT Chamber of Commerce.