Public Policy Committee
The Mid-America LGBT Chamber of Commerce advocates, promotes and facilitates the success of the LGBT business community and their allies through the guiding principles of equality, inclusion, economics, and education. The Chamber's purpose is to create, identify and enhance business opportunities for LGBT and LGBT-friendly organizations, thereby fostering a more inclusive and vibrant economy in Mid-America.
To ensure all individuals can participate in the broad market economy, our Board approved the following public policy platform for the 2022-23 legislative year.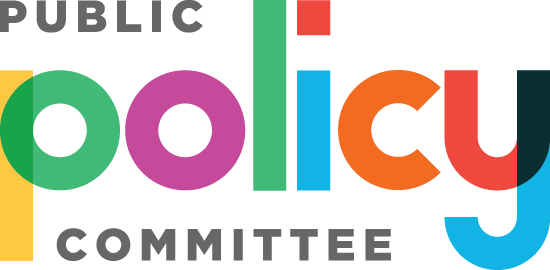 Recent Updates from Public Policy
Mid-America LGBT 2022 Public Policy Platform
The 2022 Public Policy Platform was formally endorsed and approved by the board of the Mid-America LGBT Chamber of Commerce on January 20, 2022.  We are a non-partisan organization focused on the betterment of business and the LGBTQ+ community through economic inclusion and business opportunity.  Our Chamber does not endorse canidates.
Issue: Education
Our school systems are some of the biggest assets businesses have to attract and retain talent. We support education policies that protect LGBT students and their privacy, and ensure all students are prepared to enter a workforce where diversity, equity and inclusion (DE&I) initiatives are increasingly prevalent.
LGBT students tend to take on more educational debt than their non-LGBT peers due to acrimonious familial relationships. This can lead to larger financial burdens in preparation for the workforce of tomorrow. Affordable education is paramount to the longevity of a vibrant LGBT and business community. Therefore, we support equitable student loan repayment practices.
Issue: Health
We recognize the importance of a healthy workforce and encourage businesses of all sizes to adopt health care policies that are fully inclusive to all members of the workforce. Policies and laws should require that all employees and their families be treated equitably regardless of their sexual orientation, gender identity or gender expression.
We support legislation that prohibits licensed mental health practitioners from subjecting LGBT minors to harmful conversion "therapy" practices that attempt to change their sexual orientation or gender identity.
In the interest of a healthy LGBT workforce, we support expansion and fully funding the Medicaid program to close the coverage gap and ensure adequate funding for health care providers serving the economically disadvantaged in the Kansas City metro.
Issue: Non-Discrimination
We support non-discrimination protections for LGBT individuals promoting equal access to employment, housing, credit, public spaces and services, education, and government funded programs at all levels of government. This includes our support of federal nondiscrimination laws, including The Equality Act.
Issue: Transportation
We stand against violence and discrimination in any form, and we continue to work to make all modes of public transportation safe and enjoyable for employees and customers.
Issue: Family Benefits
We support strong families as the foundation of healthy communities and economies.  Adoption and foster care rights should be extended to all individuals, and adoption and foster care benefits should be offered to all employees regardless of sex, sexual orientation, gender identity or gender expression. We support legislation that promotes safe, healthy homes for LGBT families.
Issue: Family Benefits
We believe in the fundamental right of an individual, regardless of age, to express their gender identity in a way that corresponds to who they are. In any public or private space, individuals should be free to express their gender identity without fear of repercussion or persecution.
Furthermore, we encourage businesses and government organizations, including public safety departments, to proactively pursue educational opportunities around gender identity and expression to foster trust within the LGBT community.
Issue: Market Access
We support an open marketplace that respects and serves all customers regardless of race, color, religion, sex, national origin, disability, age, sexual orientation or gender identity. For our community and all levels of government to thrive economically, we should not implement artificial barriers that alienate individuals and prevent them from receiving products and services, including barriers premised on religious freedom.
We encourage our business members to engage in the NGLCC LGBT-Certification process and achieve LGBT Business Enterprise (LGBTBE) status to enhance their ability to serve public and corporate entities. We encourage all levels of government and corporations to include LGBTBE businesses in their contracting policies, rules and regulations.
Issue: Redistricting
We support a transparent redistricting process that strives to respect communities of common interest and contiguity, including keeping the core of Greater KC intact, and respecting county boundaries when establishing legislative districts.