As the leading organization representing LGBTQ+ businesses and employees in Kansas City and surrounding areas, the Mid-America LGBT Chamber of Commerce applauds members of Congress and President Biden for passing the Respect for Marriage Act. This landmark legislation will reassure the more than 568,000 married same-sex couples that their marriage cannot be stripped away from them. It is a bright moment in a time of increasing violence and legislative assaults against our LGBTQ+ family members, friends, and co-workers.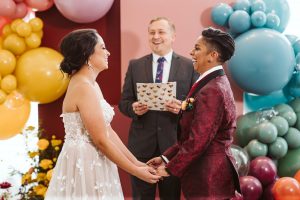 This decision is particularly impactful in our region, where if Obergefell v Hodges, the Supreme Court ruling that allowed same-sex marriage, were overturned, existing same-sex marriages would not be honored because of Kansas and Missouri law. This legislation will guarantee the federal rights, benefits and obligations of marriages in the federal code for same-sex couples; repeal the discriminatory Defense of Marriage Act (DOMA), which defined a spouse as "being only a person of the opposite sex"; and affirm that public acts, records and proceedings should be recognized by all states. It also codifies the same rights for interracial couples.
This legislation provides certainty for employers and employees. Employers have made numerous policy and benefit plan changes to afford employees who are part of a same-sex couple identical benefits to their coworkers. More importantly, it codifies Obergefell and ensures that the Supreme court does not throw businesses and their married LGBTQ+ employees into turmoil.
About the Mid-America LGBT Chamber of Commerce
The Mid-America LGBT Chamber of Commerce is a proud affiliate of the National LGBT Chamber of Commerce and exists to advocate, promote and facilitate the success of the LGBTQ+ business community and their allies through the guiding principles of equality, inclusion, economics and education. Representing nearly 500 area companies with more than 350,000 employees, the Chamber provides networking and professional development programming and seeks to foster a more inclusive and vibrant economy in Kansas City and the surrounding region.
Contact Information
For all general and media inquiries, please contact the office of the Executive Director of the Mid-America LGBT Chamber of Commerce.