KCMO Public Safety Coalition Meets with Recently Appointed Chief of Police
The Mid-America LGBT Chamber of Commerce is honored to participate as a member of the Kansas City, Missouri, Public Safety Coalition during the past eighteen months.  The coalition comprises sixteen business, community, and faith-based organizations. Its initial charter was to make recommendations to the KCMO Board of Police Commissioners concerning the selection criteria and process for the KCMO police chief.  Thus far, we have completed a lot of work, including listening sessions across the city where we gathered what our community wants from a new Chief of Police, presented those findings to the Board of Police Commissioners, and met with several of the candidates.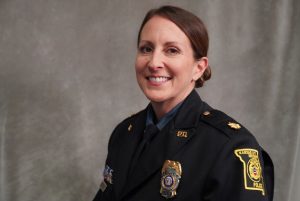 Last Friday, our work around finding a new police chief came full circle. The Public Safety Coalition met with Kansas City, Missouri's new Chief of Police, Stacey Graves last Friday. She seems both energized and enthusiastic about her new role.  Her collaborative energy is already starting to make an impact.
She has already named three new deputy chiefs, one of whom is Latino.
She wants to work with businesses, the city, social services, youth, and especially those living in areas experiencing violent crime repeatedly. She made several references to working with youth exposed to and drawn into violent crime.
She said they are implementing new things with de-escalation training. It used to be their mindset to "make sure officers go home safe at night." Now they are taking the approach of "let's make sure EVERYONE goes home safe at night."
The department is lining up patrol division commanders with their respective city council members to connect and build relationships and share information.
Chief Graves is out meeting with local groups now and asked to be added to the list of invitees for our Chamber's networking events, so keep an eye out for her.
We also discussed ways the department is working to address the increasing threat of violence toward the LGBTQ+ community and the lack of trust between some in the community and the department.   The department just established a liaison division led by Major Thompson and assigned a dedicated liaison officer for our community.  We know they are already out listening to the community because some of us met them during last month's coffee connection.   They are also closely coordinating with owners of local gathering spots to improve safety.
We asked how our Chamber and the business community can help in this effort.  She asked that we take advantage of opportunities for training and partnership with department personnel.  Chief Graves also asked us to share information the department provides us with our members and greater community.
It was good to hear from her. Our coalition and the Mid-America LGBT Chamber of Commerce are looking forward to working with her to help make Kansas City, Missouri a safer place for all going forward.
About the Mid-America LGBT Chamber 
The Mid-America LGBT Chamber of Commerce is a proud affiliate of the National LGBT Chamber of Commerce, and our mission is to advocate, promote and facilitate the success of the LGBT business community and their allies through the guiding principles of equality, inclusion, economics and education.
Through our shared membership, networking opportunities, and personal and professional development programming, we seek to enhance business opportunities for LGBT businesses, and our allies, and foster a more inclusive and vibrant economy in Kansas City and the surrounding region.
Contact Information
For all general and media inquiries, please contact the office of the Executive Director of the Mid-America LGBT Chamber of Commerce.