Kansas City, Missouri, January 3rd, 2023
The inaugural CELEBRATE!, A Wedding Show For All, inclusive wedding show will be Sunday, January 29th, 2023, from noon to 4 pm at the Maverick in the Crossroads.
Presented by the Weddings & Events Coalition of the Mid-America LGBT Chamber of Commerce, CELEBRATE! is the biggest wedding show in KC, expressly for the LGBTQIA+ community and its allies!
Suzanne Wheeler, Mid-America LGBT Chamber Executive Director, stated, "The chamber is excited and honored to support this event and our Wedding and Events Coalition members. Too often, the bias or outright discrimination of wedding vendors overshadows the celebrations of LGBTQ+ people. The goal of CELEBRATE is to introduce those in the queer community planning their special day with vendors who are dedicated and trained to affirm and uplift the LGBTQ+ customers."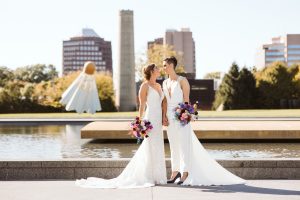 WECo's mission is simple: EVENTS WITHOUT DISCRIMINATION. WECo works to create an open and affirming vendor community through education, influence, and intersectionality. Each WECo vendor you hire for your wedding has undergone DEI training and is enthusiastic about serving the queer community.
You should never have to ask your vendors whether or not they'll serve you! That is why we are bringing them to you, all in one place. CELEBRATE! is a disco drag brunch wedding show where you can come to meet inclusive vendors and stay for some can't-miss giveaway prizes.
The will take place on Sunday, January 29th, 2023 from noon to 4 pm at the Maverick, 1911 Broadway Blvd, Kansas City, MO 64108
The Mid-America LGBT Chamber, Wedding and Events Coalition is an association of wedding and event professionals dedicated to providing affirming and inspirational occasions for the LGBTQ+ community. WECo members are dedicated to providing vibrant, inclusive, and affirming services that every customer deserves.
WECo provides its members industry leading education and inspirational networking events for wedding and events professionals, vendors, and suppliers with a focus on advancing diversity, equity, and inclusion standards of the industry.
Instagram: @weco.kc
Contact Information
For all general and media inquiries, please contact the office of the Executive Director of the Mid-America LGBT Chamber of Commerce.