Kansas City, Missouri - Mid-America LGBT Chamber Board Member Bryce Reeves has been announced as a 2021 Most Wanted Honoree by Big Brothers Big Sisters Kansas City. The Most Wanted honorees are a class of charitable, passionate and hard-working professionals who come together to raise money for the local nonprofit organization. These individuals are movers and shakers who are making a big difference in their profession and in their community.
Reeves serves on the Chamber Board of Directors as the Director of Marketing and Co-Chairperson of the Chamber Ambassador Program. He's also a board member for Fountain City Performing Arts, is currently pursuing his Masters at Park University and has been published in Park University's Navigator publication for his research on LGBTQ+ culture and other topics.
Reeves is excited to raise awareness and funds for Big Brothers Big Sister, specifically to advocate and represent the LGBTQ+ community with a majority of donations coming from LGBTQ+ owned businesses. "My experiences as a young closeted gay man growing up in rural Kansas, struggling to understand and become my authentic self, could have been tremendously impacted through a program like Big Brothers Big Sisters," says Reeves.
The Chamber is proud to highlight Reeves and congratulates Bryce for this high honor! To support Bryce, you can click HERE before December 11. The Most Wanted Auction will take place Saturday, December 11, 2021, in person at The Midland Theatre and live-streamed online.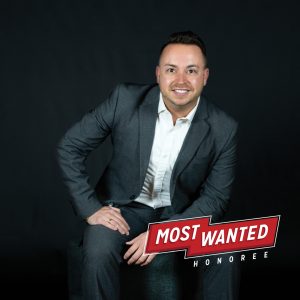 Contact Information
For all general and media inquiries, please contact the office of the Executive Director of the Mid-America LGBT Chamber of Commerce.