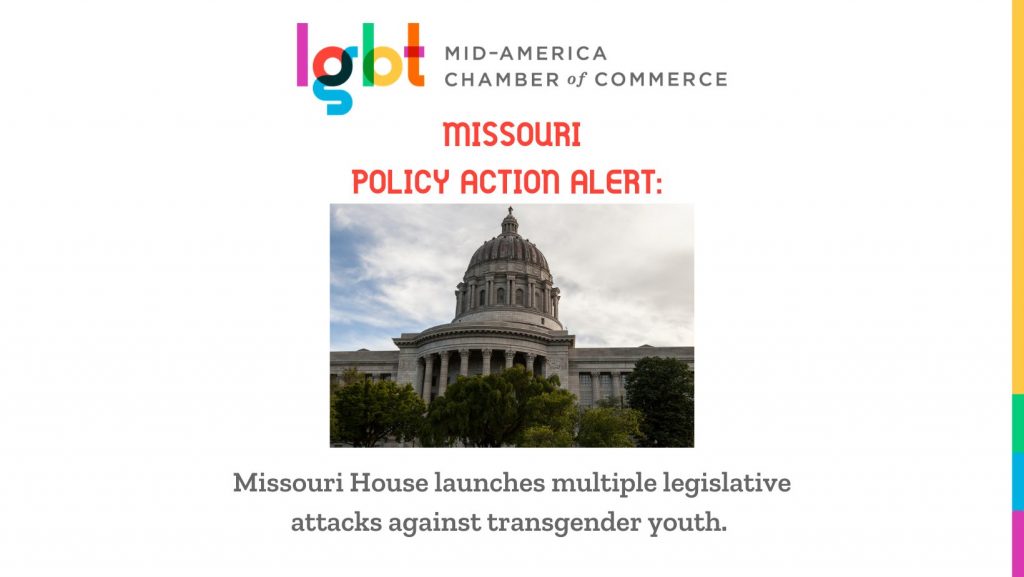 Yesterday evening the Missouri House debated banning transgender kids from playing school sports alongside their peers as an amendment to HB 1141 - a bill protecting students whose GPA was adversely affected by COVID-19.
The elected leaders of Missouri chose daily to advance harmful attacks on the dignity of trans youth in our state by discussing their right to be kids and play sports alongside their peers. Between the debate last night and the advancement of HJR-53, a resolution which would send a constitutional amendment to voters to decide the fate of transgender youth participation in school sports, the Missouri house continues to single out transgender kids as different and continues to threaten their ability to thrive.
At a time when states are struggling to attract quality business and the workforce necessary to staff them, our political leaders must focus on enacting laws that protect and support all Missourians, including transgender and nonbinary youth and LGBTQ+ members of our community. Missouri cannot make progress if our elected leaders continue to perpetuate the dangerous stigmas of transphobia, racism, and misogyny, which fuels a culture of violence and suppresses a culture of celebrating the authenticity of all LGBTQ kids and Missourians.
We are grateful to the Representatives, who rightly spoke out against this attack.
Rep. Barbara Phifer, "We know that when there is this rhetoric around transgender people, it is followed by violence. The PURPOSE of MSHSAA is to promote the values of participation, sportsmanship, team-play, personal experience in order to develop citizens who make positive contributions to their society. Nothing about a recipe for winning, nothing about earning scholarship! This bill tells the wider community that it is just fine to exclude, that some people don't matter.
Rep. Maggie Nurrenbern, "This isn't about protecting kids. This is about hate and fear."
Rep. Keri Ingle, "This body is making sure trans kids feel different... well, I want to say to the trans children of this state: I love you. You are wonderful and beautifully made. You are worthy."
Join us in thanking these Representatives who opposed last night's amendment.
Ian Mackey, District 87: 573-751-0100
Barbara Phifer, District 90: 573-751-1069
Maggie Nurrenbern, District 15: 573-751-4787
Michael Burton, District 92: 573-751-9472
Kimberly-Ann Collins, District 77: 573-751-1400
Patty Lewis, District 25: 573-751-2437
Tracy McCreery, District 88: 573-751-7535
Keri Ingle, District 35: 573-751-1459
Ashley Aune, District 14: 573-751-3618
Please also call or write your Representative and let them know you oppose HJR 53 and the continued legislative attacks on transgender children in Missouri.
The Mid-America LGBT Chamber of Commerce is a proud affiliate of the National LGBT Chamber of Commerce and exists to advocate, promote and facilitate the success of the LGBT business community and their allies through the guiding principles of equality, inclusion, economics and education. Through membership, networking, and professional development programming, the Chamber seeks to foster a more inclusive and vibrant economy in Kansas City and the surrounding region.
Contact Information
For all general and media inquiries, please contact the office of the Executive Director of the Mid-America LGBT Chamber of Commerce.