The Mid-America LGBT Chamber of Commerce is proud to announce this year's Board Nominating Committee.
This esteemed committee is comprised of civic innovators and diversity and inclusion advocates with the principal task of shaping the future of our Chamber through the nomination of the next slate of Board Members. The Chamber takes great pride in the selection of this Board Nominating Committee and recognizes the essential role this collective plays in the formation of a dynamic Board of Directors.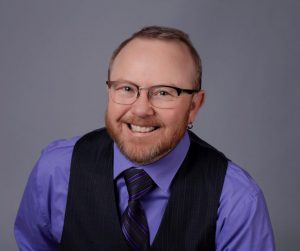 Jay Pryor (They/Them/Their)
Jay Pryor is a speaker, author, and executive coach from Lawrence, Kansas with over fifteen years of experience helping business owners create positive learning cultures while helping individual employees access their most authentic power. Jay's signature process and book "Lean Inside" uses mindfulness and neuroscience to create a powerful understanding of the human response and emotional intelligence required to be successful in today's world. 
As a transgender non-binary person themselves, Jay's perspective and advocacy has also expanded into their culture training to include Diversity, Equity, and Belonging in the workplace, through the LGBTQIA lens. Jay is an advocate & educator for inclusivity and gender consciousness and the creator of The Gender Reveal Party, a one-human performance show about their experience growing up a transgender non-binary person in the heart of the Midwest. Jay lives with their wife, Jessica, two children, and two dogs. Jay is a huge KU Basketball fan and loves reading historical novels and riding their bicycle as much as possible.
"Being a part of the Chamber is a gift and a privilege and I'm honored to serve in this capacity. Connecting with other queer business owners is such a blessing; It has enhanced my networking and allowed me to give back. Lifting LGBTQIA humans is something I am very committed to and the Chamber is a great resource for that." - Jay Pryor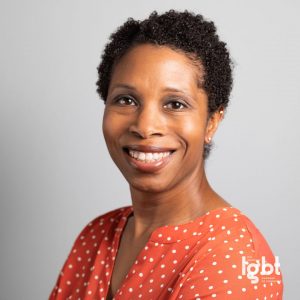 Brandy Williams (She/Her/Hers)
Brandy Williams, LMSW is the Director of Education at the Metropolitan Organization to Counter Sexual Assault (MOCSA). Brandy is responsible for managing the delivery of awareness and prevention programming in 30 school districts within the KC metropolitan area as well as community-level prevention in Missouri and Kansas. Brandy has over 20 years of experience working with adult and child survivors of sexual violence with a focus on prevention efforts to eradicate violence in every community. Brandy believes that awareness, prevention efforts, and looking at the systemic causes of violence in marginalized communities are key if we are to create communities free from violence. Brandy feels grateful knowing that MOCSA's mission is in line with her own personal values and the agency strives to create safe spaces for survivors as well as actively work on anti-violence measures.
Brandy was a mentor in the Stephen J. Metzler Mentoring program as part of the Mid-America LGBT Chamber of Commerce in 2019-2020. Due to COVID, the program had to halt, but Brandy wanted to continue developing her relationship with the Chamber and in 2020 became a newly elected board member. Brandy earned a B.A. in Psychology from the University of Missouri-Columbia and later went on to obtain her Masters in Social Work from the University of Kansas.
"I was humbled to be asked to join the Board Selection Committee, especially being new to the Board. I agreed because I want to continue being an agent of change by encouraging all of us to be aware of our own bias, to realize that change is necessary, and to reach, encourage, and empower others to embrace the way in which change helps us to grow. Everyone should be able to feel safe, included, and seen. I am proud to serve on this Board Selection Committee as we seek to continue building a diverse and inclusive board to help guide the success of the Chamber." - Brandy Williams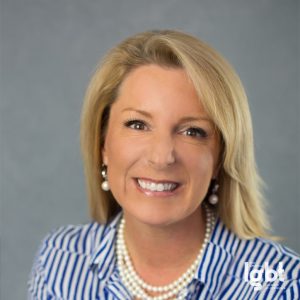 Paige Perlik, J.D., M.B.A (She/Her/Hers)
Paige Perlik is the VP of Corporate Engagement for the National WWI Museum and Memorial. Paige is responsible for planning, implementing and managing a comprehensive corporate giving program which includes membership, sponsorship, and capital campaign contributions. She has developed numerous sponsorship programs for exhibitions and events and has introduced the Modernists, a millennially focused membership program designed to attract a more diverse audience to the Museum.
Paige has been a board member for the Mid-America LGBT Chamber of Commerce since 2017. In this role, she led the Executive Director Recruitment Committee in 2018, co-chaired the Business Equality Luncheon in 2019 and 2020, currently chairs the Membership Committee, and recently joined the One RIdeKC Citizens Advisory Committee. Paige earned a B.A. in Political Science and M.B.A. in Finance from the University of Missouri, Columbia, and J.D. from the University of Missouri, Kansas City.
"Inclusivity is good for business, good for the community, and good for the future of Kansas City. I'm honored to serve on this Board Selection Committee which seeks to build a diverse, productive, effective board to ensure the continued success of the Chamber and strengthen the collective voice of our membership." - Paige Perlik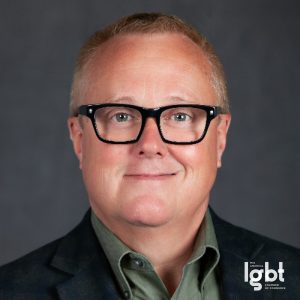 Steve Hills (He/Him/His)
Stephen Hills helps businesses and organizations solve problems, create solutions, and translate strategy into end-to-end operations and supply chain plans that support both near-term and long-term requirements.
As a Supply Chain Solution Leader at Hallmark Cards, Inc., Stephen brings together business and supply chain resources to ensure clarity of purpose, understanding of requirements, evaluation and development of solutions, and understanding of necessary trade-offs. He leads key Global and Enterprise initiatives including most recently China 301 Tariff mitigation and Hallmark's Coronavirus Task Force. For Stephen, helping teams navigate ambiguity and remain effective under pressure by setting clear priorities and acting on them is the most rewarding part of the role.
Outside of the office, Stephen serves on the Mid-America LGBT Chamber of Commerce Board of Directors, Executive Committee, Director of Diversity, Equity, and Inclusion, and Board Secretary. He enjoys boating, lake-life, and looks forward to resuming post-pandemic travel.
"To paraphrase Harvey Milk, the visibility of LGBT people is a core means for our equality. Mid-America LGBT Chamber of Commerce makes LGBT professionals and entrepreneurs visible. My vision is for the Greater Kansas City Region to consistently rank as a top city for LGBT people to build a career, own a business, and create family. The Chamber is looking for folks who share this vision to join us in making the vision a reality."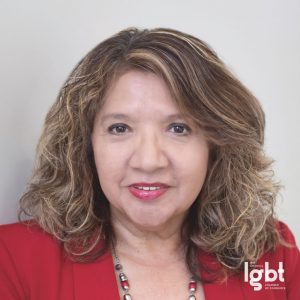 Lolly Cerda (She/Her/Hers)
Lolly Cerda serves as the Director of Strategic Diversity Initiatives for Shook, Hardy & Bacon L.L.P. For over 13 years, she has held professional diversity roles within law firms establishing best practices for firmwide diversity and inclusion efforts and initiatives. In her current role, Lolly leads the D&I Team and Committee, directs Shook's diversity efforts, and provides internal and external leadership for all Shook offices and the community. Lolly works closely with Shook's Chair of Diversity & Inclusion Initiatives to develop and direct policies to attract and retain attorneys and professional staff from all segments of society and ensures that diversity is a consideration in all Firm policymaking. Lolly works with relationship partners and firm leadership in developing guidelines to support client goals and address expectations. She has demonstrated her commitment to diversity through her years of working in the diversity and inclusion space and her dedicated service to the community.
"I have been an ally for the LGBTQ community for many years. It is something that is very personal, and near and dear to my heart. With that said, it only seemed natural to become involved with the Mid-America LGBT Chamber of Commerce early on after its inception. I have found the most welcoming, amazing, accepting people and organization, and have developed many close relationships as a result. The support the Chamber brings to individuals and the community as a whole continues to grow and increase. I would highly encourage participation in this Chamber in any capacity, but in particular, serving as a board member and having a voice in continuing to shape the Chamber to be the best it can be." -Lolly Cerda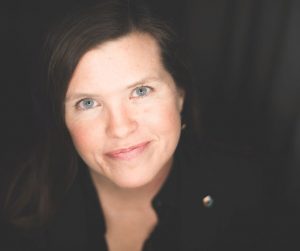 Kate Nielsen (She/Her/Hers)
Kate graduated from Mount Holyoke College in Western Massachusetts with a degree in International Relations and Women's Studies. After an eight-year career in the not-for-profit and social work sector, Kate taught herself to code to help a friend launch a small website for their business. She began building websites on the side and taught herself the foundational elements of Search Engine Optimization. She eventually earned a certificate of web design from Johnson County Community College and was recruited by a local software company to join their front-end development team. After holding roles as a Developer, Business Analyst, and Project Manager, Kate founded On Tap in 2013. On Tap emphasizes a holistic approach to website development that is integrated into their client's marketing and operational strategy and focuses on long-term growth and sustainability. In 2019 On Tap expanded its services to offer a full suite of digital marketing capabilities including Search Engine Optimization, Search Engine Marketing, email marketing, social media training, and management. Marketing and lead generation activities delivered from On Tap are all result-based with custom-built dashboards, allowing a transparent return on investment for their clients and partners.
Kate is currently the Vice President of the Board of the Waldo Area Business Association and was the honorary mayor of the Waldo neighborhood in Kansas City in 2020 (boo). Kate also serves on the Board of Directors for the Mid America LGBT Chamber of Commerce, working to increase the number of LGBTBE certified businesses and developing programming and corporate partnerships for LGBTBE companies to help grow an equitable Kansas City economy. Her volunteer efforts include three years on the task force for the Habitat for Humanity Pride Build in Kansas City and serving as an informal mentor for the Kansas City Women in Technology organization, coaching women on career transition opportunities in the technology field. In her spare time, Kate is an obsessive gardener and plant connoisseur.
"I am extremely passionate about developing a more equitable Kansas City economy and expanding opportunities for individuals and communities that have been disproportionately undervalued and unseen.  I am a tireless advocate for the Mid America LGBT Chamber of Commerce and am excited about recruiting the next generation of talent, energy, and a fresh perspective to help grow our organization.  Serving time on this committee allows me to work with a very talented group of individuals towards a greater goal; growing economic opportunities for equity in our city, region, and beyond." - Kate Nielsen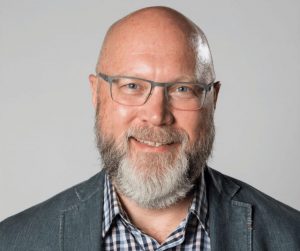 Joel Barrett (He/Him/His)
Joel Barrett of Joel Speaks Out is an LGBTQ Author, Speaker, and Gatherer as well as a Business Development Consultant for the Missouri Small Business Development Center.  He is recognized for his honesty in sharing his story as a former Baptist pastor and survivor of ex-gay (conversion) therapy. He has a unique ability to bring people together and encourage everyone to challenge their fears and make bold moves in their lives, organizations, and careers. He has authored/co-authored three books including his memoir Godly...But Gay released in May 2021. 
"The Mid-America LGBT Chamber of Commerce was one of the first resources I explored when we located here in 2016. It has played a significant role in building my business and helping me get integrated into the business community of KC." - Joel Barrett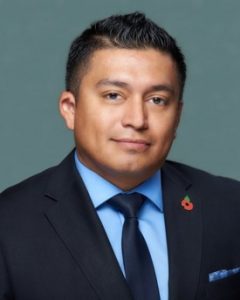 Daniel Silva (He/Him/His) 
Daniel Silva, the President and CEO of the Kansas City Kansas Chamber of Commerce leads the six priority areas for the member organization in its 120+ plus year history.
As the President and CEO of the KCK Chamber of Commerce, Daniel Silva is charged with focusing on the following priority areas
Access to opportunities
Resources for members
Community development and growth
Business leadership, influence, and advocacy
Chamber sustainability
Board and staff inclusion
Daniel is originally from Chicago, IL and attended UMKC on a D1 Division Scholarship for Cross Country/Track and Field. Daniel began his professional career with League of United Latin American Citizens National Education Centers (Kansas City) as a Special Projects Coordinator. After LNESC, Silva went on to work for UnidosUS, formerly National Council of La Raza, in Washington, DC before relocating to Kansas City.
Prior to joining the KCK Chamber, Daniel was the Director of Diversity and Inclusion for the Greater Kansas Chamber of Commerce Silva became recognized for his ability to cross political and cultural lines to ensure the best results for the business and the memberships he has represented. He also follows a strict open-door policy to foster inclusion and is always willing to listen and respond to the needs of all citizens of the community. Daniel currently serves on the Corporate Board of Directors of the Boys and Girls Club, Board of Directors of Catholic Charities of Northeast Kansas, and Board of Directors for Guadalupe Centers Schools.
Contact Information
For all general and media inquiries, please contact the office of the Executive Director of the Mid-America LGBT Chamber of Commerce.