Through adversity comes strength. This month, we feature an entrepreneur who exemplifies that expression: Godfrey Riddle, Founder and President of LGBTBE®- certified business Civic Saint.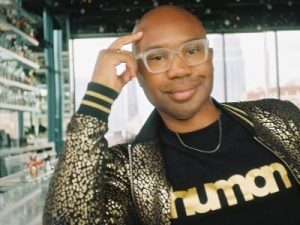 Before the age of 31, Godfrey experienced more adversity than many see in a lifetime. Just six weeks after being diagnosed with a rare form of head & neck cancer, Godfrey's father Cecil suddenly passed away. Just 14 months later, his mother, Goldie also passed. After a grueling surgery necessary to fight his cancer and the senseless murder of George Floyd, Godfrey was inspired to create an ethical, social-justice minded business. Thus, Civic Saint was born in October 2020.
"The main reason I created Civic Saint was to inspire people to get involved with their community," says Godfrey.
Civic Saint is a purposeful lifestyle company that creates affirming apparel and accessories to advance social justice. Their signature collection includes statement t-shirts and pins that allow wearers to stylishly incorporate their values into their wardrobe. From shirts & pins stating support of the Black Lives Matter (BLM) movement to art prints that proudly boast "Survivor," Civic Saint's collection inspires joy, nostalgia and reflection intended to inspire pursuit of a purposeful life.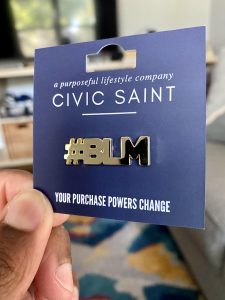 The company is also community-minded. Riddle notes, "Because we dream of an equitable, inclusive world where everyone can live to their full potential, we donate a portion of our proceeds to organizations that advocate for racial and social equity." These nonprofits include the Equal Justice Initiative, The Bail Project, the NAACP Legal Defense Fund and Troost Market Collective. You can learn more about Civic Saint's philanthropic efforts HERE.
From previously being involved as a Mid-America LGBT Chamber of Commerce board member, Godfrey was well aware of the LGBTBE® certification program and how important certification was for his business. He says, "I want to proudly represent what a gay entrepreneur can look like and accomplish." Noting a still-significant lack of diversity and inclusive representations in business, it was important for Godfrey to create space in such a way that others who share his identify feel empowered to pursue their business goals.
He highly recommends certification to business owners considering the process. "It's such a positive way for your business to stand out in the community and certification can offer you a competitive advantage." He references society moving toward more inclusive business practices as another benefit to certification: "People want to do business with people who have traditionally been left out. Make it easy for them to find you by becoming certified." His process with certification was a "super easy," one, noting that the collection of documents was the only time-consuming piece. In addition, he was assisted by the Chamber, with the Chamber both providing Godfrey with a letter of support and helping navigate the certification steps along the way.
Civic Saint has been a fast-growing company, and Godfrey's plans for 2022 remain the same, with plans to develop partnerships to grow awareness and sales of Civic Saint in the Atlanta, Denver, Detroit, Portland and St. Louis markets. He also plans to introduce the first item from their forthcoming capsule collection. To shop or support Civic Saint, you can visit civicsaint.com or follow them on Facebook and Instagram.
About the LGBTBE® Certification Program: The Mid-America LGBT Chamber of Commerce is proud to partner with the National LGBT Chamber of Commerce (NGLCC) on the LGBT Business Enterprise® (LGBTBE®) certification program. The NGLCC is the nation's only third-party certification body that verifies that eligible businesses are majority-owned by LGBT individuals and subsequently grants LGBT Business Enterprise® (LGBTBE®) designation. Become a member of the Mid-America LGBT Chamber, and your application fee is waived.
Contact Information
For all general and media inquiries, please contact the office of the Executive Director of the Mid-America LGBT Chamber of Commerce.