Ronawk, LLC. Receives LGBT Busines Enterpise (LGBTBE®) Certification
Kansas City, MO – The Mid-America LGBT Chamber is proud to announce the LGBT Business Enterprise (LGBTBE®) certification of Ronawk LLC,  by the National LGBT Chamber of Commerce (NGLCC). NGLCC is the business voice of the LGBT community and serves as the nation's exclusive certifying body for the LGBT-owned and operated businesses. The Mid-America LGBT Chamber of Commerce is one of the largest affiliate Chambers of the NGLCC.
"We are so pleased to welcome Ronawk to the ever-expanding network of NGLCC certified LGBT Business Enterprises and the hundreds of corporations and government agencies eager to put them to work," said NGLCC Co-Founder and President Justin Nelson and Co-Founder and CEO Chance Mitchell. "According to NGLCC's groundbreaking America's LGBT Economy report, America's estimated 1.4 million LGBT business owners, many of them NGLCC certified add over $1.7 trillion to the GDP and create tens of thousands of new jobs. We are proud to count Ronawk among those who prove every day that LGBT businesses are the future of the American economy."
Ronawk LLC was formed by a group of engineers and scientists interested in developing options for patients who need tissue and organ transfers but have limited options.  They preserve primary stem cells from patients for later use in reconstructive surgeries. Their proprietary technology provides a break-through method to grow primary stem cells in a 3D environment while maintaining stem cell characteristics of the cell population outside of the body. This technology enables rapid expansion of stem cells that could be used for early-stage diagnostics or in repairing injured tissues.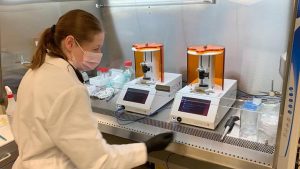 Ronawk is hosting a virtual tour and conversation with their founders on Thursday, February 25th, 2021 at 6:30 PM Central.  You can find out more about the virtual tour here or on the Mid-America LGBT Chamber's events calendar.
"At Ronawk, we are honored to be the first biomanufacturing company in the Greater Kansas City area to receive certification by NGLCC as an LGBT Business Enterprise. Ronawk is currently working to support the efforts of scientists and healthcare workers to remediate COVID-19 and we are committed to championing diversity and equality and are a proud supporter of the LGBTQ+ community," said Ronawk Co-Founder and CEO, A.J. Mellott.
"We are proud to have Ronawk and their team as part of our Chamber and we are excited about all of the doors their NGLCC LGBTBE® certification will open for their critical cutting-edge technologies", said Suzanne Wheeler, Executive Director of the Mid-America LGBT Chamber.
The Mid-America LGBT Chamber of Commerce is a proud affiliate of the National LGBT Chamber of Commerce and exists to advocate, promote, and facilitate the success of the LGBT business community and their allies through the guiding principles of equality, inclusion, economics, and education. Through membership, networking, and professional development programming, the Chamber seeks to foster a more inclusive and vibrant economy in Kansas City and the surrounding region.
The National LGBT Chamber of Commerce (NGLCC) is the business voice of the LGBT community and the exclusive certifying body for LGBT-owned businesses. With more than 200 corporate partners, and 62 local, state, and international affiliate chambers, NGLCC is the largest LGBT business development and economic advocacy organization in the world. www.nglcc.org
Contact Information
For all general and media inquiries, please contact the office of the Executive Director of the Mid-America LGBT Chamber of Commerce.