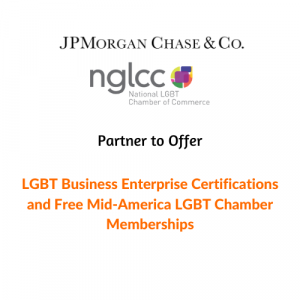 JPMorgan Chase & Co. is partnering with the National LGBT Chamber of Commerce (NGLCC) to certify 100 LGBT+ business enterprises. Chamber membership and certification fees will be sponsored by JPMorgan Chase's Office of LGBT+ Affairs and distributed through the NGLCC.
Becoming certified as an LGBT Business Enterprise (LGBTBE) can open the door to new business growth opportunities. Large national and multi-national corporations like JPMorgan Chase have spent billions with diverse businesses and are looking to meet companies like yours. Supplier diversity programs enable corporations to find and work with certified businesses and ultimately impact local economies.
This LGBTBE initiative is on a first-come, first-serve basis. Participating businesses are to be determined by NGLCC, resulting in an approved certification.
To participate, your business should meet the following criteria:
$100,000+ in annual revenue
2 years or more in business
51% or more of the business is owned and controlled by LGBT+ person(s) who are U.S. citizens or lawful
permanent residents and therefore eligible to be certified as an LGBTBE
Suggested industries by NGLCC include, but are not limited to:

Manufacturing – healthcare, food and beverage, flexible film, personal care products, ingredients
Logistics and Transportation – trucking, cargo
Legal Services
Money Managers – treasury, acquisitions, mergers
Technology – cybersecurity, blockchain
Executive search firms
Personal protective equipment product manufacturing
When you're ready to get started, follow the steps below. All applicants must be approved by NGLCC first to participate.
Applicant sends email to education@nglcc.org requesting to participate.
NGLCC approves applicant participation and makes introduction to local affiliate chamber.
Applicant becomes a member of their Mid-America LGBT Chamber of Commerce and completes certification process.
Local affiliate chamber invoices NGLCC for the applicant's membership dues, and applicant's certification fee
is waived.
To learn about the benefits of certification and the program, click here. If you have any questions, please contact education@nglcc.org.
Contact Information
For all general and media inquiries, please contact the office of the Executive Director of the Mid-America LGBT Chamber of Commerce.