Responsibly Moving Back to the Work Place
During the past few weeks, the Kansas City Metro stepped up to "flatten the curve" and reduce the impact of COVID-19.  Our Chamber recognizes that our small business and non-profit members have been some of the hardest hit during this period, and we are diligently working throughout this public health crisis to provide valuable information and resources to help our members stay personally and financially healthy.  As we enter this next phase of the COVID-19 Response, we want to provide you with connections to the information and resources necessary to responsibly re-open our economy in way which gradually returns our business back to normal operations while protecting the health of their employees, customers, and communities.
The Chamber Board and staff plan to continue our operations remotely with a focus on what we do best: acting as a connector for our community.  We will continue to leverage technology to provide you programming and networking opportunities while also linking you to information and training designed to help you effectively navigate these difficult times.
Regional Recovery Plans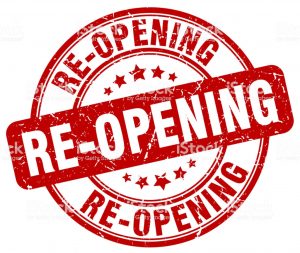 Tips for Communication with Your Employees and Customers
Basics Rules:
Communicate your office hours and have they have changed
Let your customers know the precautions you're taking
Let your customers know the precautions you expect them to take
Market your business changes (curbside delivery, online courses, special appointments)
Update Your Google My Business (Source: Google), Your Yelp, and Facebook Business Profiles
Update your business hours
Confirm your phone number
Post a bit about your business updates
Post how you are keeping your employees and customers safe
If you aren't fully repped online, now is the definitely the time to make sure you are.
Leverage Your Chamber Benefits
You can now post information about your return hours and specials using our Community Offers page with you ChamberMaster account! It takes less than five minutes, and it will show up under our Community Offers page. We will randomly highlight two community offers in our Chamber Newsletter throughout the COVID-19 response.
Use your social media posts to share information on the Chamber's social media pages.
Use Chamber Spotlights to highlight your business or a Mid-America LGBT Chamber member who is  doing awesome things in their industry or our community. Let our members know how your business is working to assist the community during these difficult times.
Share your events with your fellow chamber members.  Do you have a webinar you think would help others out, an online entertainment event, or a fundraiser for your non-profit?  Post your events using your ChamberMaster account to the Chamber's Event Calender.

COVID-19 Legal Resources
The following Mid-America LGBT Chamber member legal firms offer free information, resources, blogs, and webinars to help our members navigate all phases of COVID-19.
Shook Hardy and Bacon, COVID-19 Primers and Resources
Lathrop GPM, COVID-19 Resource Center
Fisher and Phillips, FP Beyond the Curve
Husch Blackwell, COVID-19 Toolkit
Ogeltree Deakins, COVID-19 Toolkit
Bryan Cave, COVID-19 Coronavirus Resources
Jackson Lewis, COVID-19 Resources

Where to Buy Person Protective Equipment (PPE)
An important piece of returning to the workplace is finding the PPE to protect your employees and clients.  These are a few places where you can find the PPE you need.  Please let us know if you are a Chamber business which sells PPE and your name will go to the top of the list.

 Mid-America LGBT Chamber Members

Toms Town Distillery - Hand Sanitizer
Local Non-Chamber PPE Suppliers
J. Rieger Co.  - Hand Sanitizer
BioKansas - Link to their current suppliers list
Missouri Enterprise - Link to Manufacturing Resource page
ProjectN95 - (geared toward employers with frontline workers)
Charlie Hustle - Face Masks (non-medical)
Made in KC - Face Masks (non-medical), Hand Sanitizer
KC PPE - Multi
Dimensional Innovations - Face Shield Template
Parisi Home Delivery - Multi
TrippNT - Multi
Trabon/USA Shields - Face Shield
Rightfully Sewn - Face Masks (Non-Medical)
Restless Spirits - Disinfectant
Madison Flitch - Face Masks (Non-Medical)
Helen Jon Swimwear - Face Masks (Non-Medical)
McCormick/Holladay Distilling - Hand Sanitizer
Knit-Rite, Inc - Medical Garments
Fuller Industries, LLC(link is external) - Disinfectant
Keefe Cravat - Face Masks (Non-Medical)
Boot Hill Distillery - Hand Sanitizer
Messner Bee Farm - Hand Sanitizer, Face Masks (Non-Medical)
Tolley House Distillery - Hand Sanitizer