Kansas City, Missouri - The Mid-America LGBT Chamber of Commerce is proud to announce the launch of its official magazine, Business Pride. The quarterly publication's first edition, Summer 2021, is now available!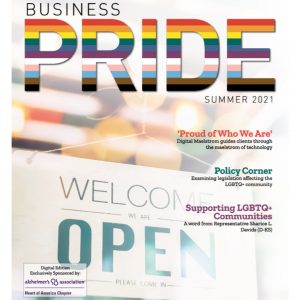 Business Pride's purpose is three-fold:
1. Highlight business members, sharing their latest news and information.
2. Feature thought-provoking commentary and stories from area leaders.
3. Provide our businesses with a further connection to the community they serve.
Each quarter, Business Pride will focus on these three purposes, while celebrating and acknowledging the contributions of the LGBTQIA+ community. Jeff Harris, Mid-America LGBT Chamber Board President, notes, "Among the stories celebrating our members and communities, you will find news about the programs and events designed to help advance our mission." 
We invite you to read this edition of Business Pride here: https://chambervu.com/midamericasummer21/
Contact Information
For all general and media inquiries, please contact the office of the Executive Director of the Mid-America LGBT Chamber of Commerce.