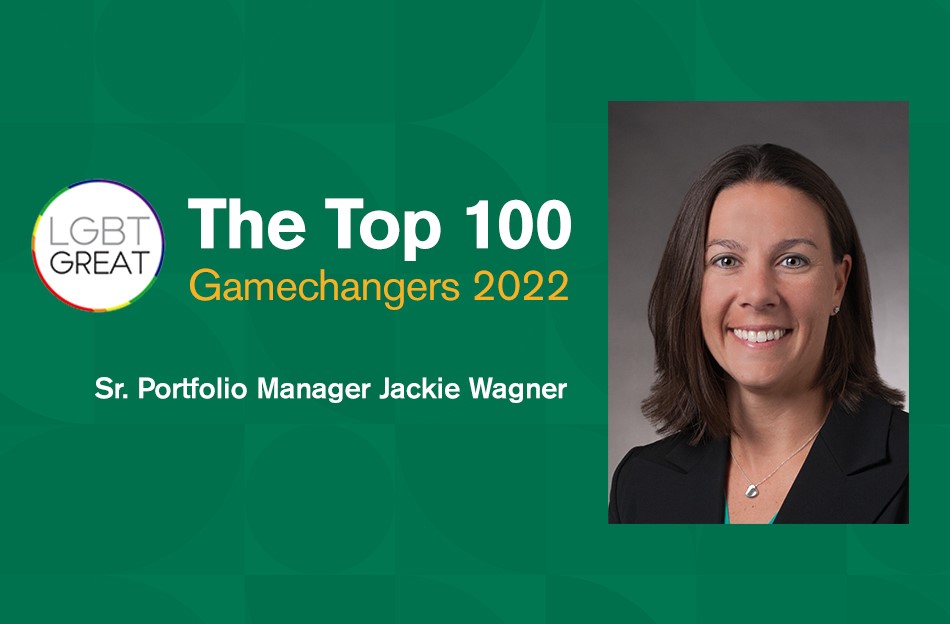 The Mid-America LGBT Chamber of Commerce would like to congratulate American Century Investments, Jackie Wagner, for her recognition as a Global Top 100 Gamechanger for 2022.
LGBT Great, a London-based organization that specializes in developing diversity and inclusion within the global financial services industry, recently announced that Jackie Wagner is one of its Global Top 100 Gamechangers for 2022.
To achieve a place among the Top 100 Gamechangers, candidates had to demonstrate consistent involvement in diversity, equity, and inclusion work, show evidence of their notable contributions and achievements and demonstrate how they have inspired others. Each nominee passed an extensive judging process to secure a place on the final list.
"I am proud to be a visible role model within our organization," Jackie said. "Role models are important to developing workplace inclusivity for everyone. Our firm is proud to be one of the first LGBT Great member firms, and we are committed to building on the foundations we have laid further."
Jackie is the co-sponsor of our Pride BRG, whose purpose is to represent members of the LGBTQ community and their colleagues, family members, and friends while fostering an inclusive environment to ensure these employees feel safe, welcome, and valued in the workplace.
"Being a part of the Pride BRG gives me an opportunity to help positively impact the evolving culture at American Century," she said. "Everyone should feel comfortable being their authentic selves at work, and I truly believe that with education comes understanding, and with understanding comes acceptance. Progress. Power. Pride."
"This recognition of Jackie demonstrates the great culture of workplace inclusion she is helping to create at American Century Investments.  We are proud to have her, and the rest of their team as partners of our Chamber" said the Mid-America LGBT Chamber of Commerce's President, Kate Nielsen.
Do you have an outstanding employee, industry award, or special event you would like to highlight to our members and their representatives?  We want to hear about it!  You can submit your story here.
Contact Information
For all general and media inquiries, please contact the office of the Executive Director of the Mid-America LGBT Chamber of Commerce.