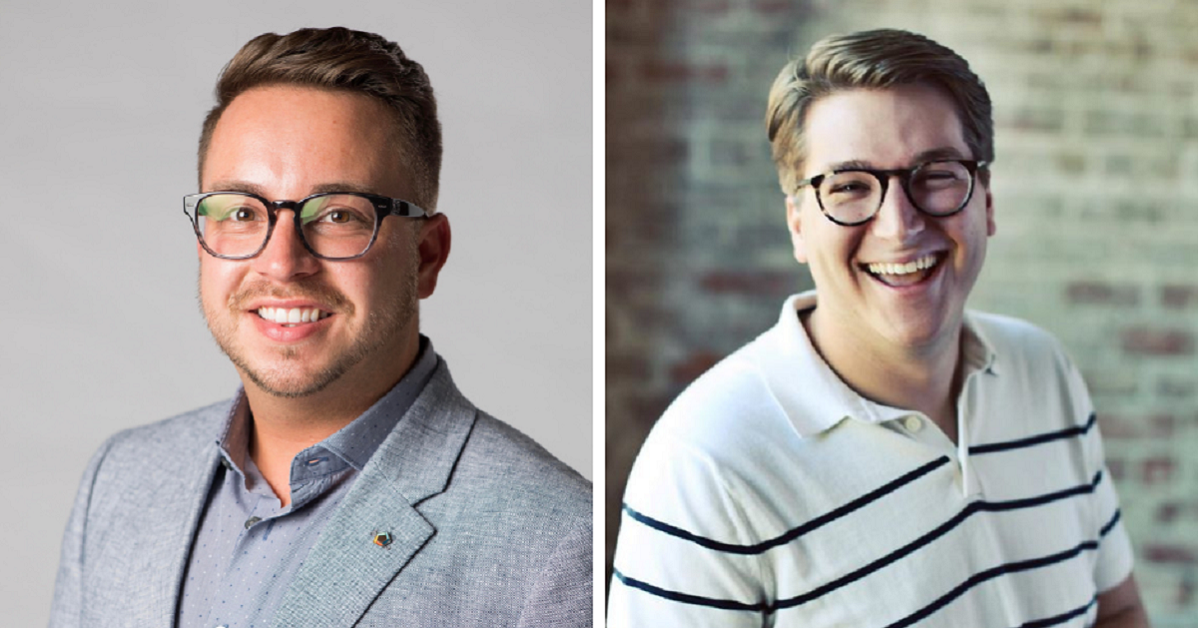 The Mid-America LGBT Chamber is proud to announce the newly appointed leadership of the Ambassador Program.
Kansas City, Missouri | Thursday, September 24, 2020 – The Ambassador Program, which provides professional development and leadership opportunities through regular meetings and networking with current and prospective chamber members, recently selected Bryce Reeves and Joey Schmidt to serve as Board Chair and Co-Chair/Director of Communications. Learn more about Mr. Reeves and Mr. Schmidt and their connection to Ambassadors Program below.
BRYCE REEVES – Ambassador Program Board Chair
Bryce focuses on building relationships and creating partnerships with furniture and workspace design company Trilogie's clients and the Architect & Design community. His 9 years of sales experience have given him a unique perspective which allows him to understand the needs of businesses and Chamber members on a deeper level. He genuinely wants to make the world a better place, one interaction at a time, and his authenticity and humor allow him to easily connect with clients. He appreciates a clean desk, never misses the opportunity for a good joke, and is often seen running at Berkley Riverfront Park and stopping at Market 3 for a bottle of wine.
Bryce serves on the Board of Directors, is the Board Chair of the Ambassadors Program, and sits on the Marketing Committee for the Mid-America LGBT Chamber. He sits on the Board of Directors for Fountain City Performing Arts, an organization that impacts at-risk LGBTQ+ youth, and participates year over year as a Fundraising Team Captain and Steering Committee Member for AIDS Walk KC. Since he has so much free time, Bryce also decided to return to school at Park University.
-Why did you join the chamber or get involved if your organization was already a member?
I originally joined the chamber while in a business consulting role and my original goal was to expand my sales portfolio by joining a new organization. I was welcomed by an amazing group of people, many of whom still serve as Ambassadors all these years later. Once I saw the charcuterie and wine, I knew I was in the right place!
-Why did you join the ambassador program?
I joined the Ambassadors to gain a deeper understanding of the chamber, to create more meaningful connections with chamber members, and create more opportunities for leads in my sales role.
-What benefits have you received from being an ambassador?
Through my years as an Ambassador, I have developed lifelong friendships, I have received opportunities for new careers, I have received sales leads and clients, and personal and professional development.
-Why do you think businesses should join the LGBT Chamber of Commerce?
Along with all the benefits from aligning yourself with such a progressive organization, the marketing, and visibility the chamber provides its members, you are also making a statement about what kind of organization you are. You are creating a safe space for your employees to go and expand your business. The LGBTQ+ community controls a large portion of the US economy, and businesses would do well to support the community that will in turn support their businesses.
JOEY SCHMIDT – Ambassador Program Co-Chair & Director of Communications
Joey Schmidt currently serves as the Corporate Partnerships Coordinator at Big Brothers Big Sisters Kansas City. Joey is originally from Villa Hills, Kentucky, a suburb of Cincinnati, and received his undergraduate degree in Studio Art with a minor in Psychology from the University of Louisville in Louisville, KY. Soon after graduation, he moved to Kansas City to teach fifth grade English and received his Master's in Secondary Education through the Teach For America program. Since, he has hopped on the bandwagon and is an avid Chief's fan, dog dad, and lover of KC BBQ. Joey loves music, art, and exploring nature – he recently returned from a solo camping trip out to Utah! Joey is excited to continue his work in equity by being a member of the Mid-America LGBT Chamber team.
-Why did you join the chamber or get involved if your organization was already a member?
I had moved to KC a few years back but did not have the space to get involved in LGBT issues outside of teaching. When I started at BBBS, I discovered we were members and our company hosted the new branding reveal party, after that experience I had to make sure I got involved.
-Why did you join the ambassador program?
I wanted to gain more leadership and networking experience in an organization that shared my beliefs.
-What benefits have you received from being an ambassador?
Exposure to new communities and companies, networking opportunities, educational workshops, and new clients.
-Why do you think businesses should join the LGBT Chamber of Commerce?
It shows the community what values you find important while giving your organization exposure to new ideas, people, and DEI efforts.
About the Chamber
The Mid-America LGBT Chamber of Commerce is a proud affiliate of the National LGBT Chamber of Commerce and exists to advocate, promote and facilitate the success of the LGBT business community and their allies through the guiding principles of equality, inclusion, economics and education. Through membership, networking, and professional development programming, the Chamber seeks to foster a more inclusive and vibrant economy in Kansas City and the surrounding region.
Contact Information
For all general and media inquiries, please contact the office of the Executive Director of the Mid-America LGBT Chamber of Commerce.