The Ambassadors are proud to recognize Micha Mims as the March Ambassador of the Month.
As a 4-year collegiate basketball player and 5+-year collegiate coach, Micha Mims has bottled up her knowledge of cultivating culture. Dedicating her career to helping teams look inward to best serve outward, she is a great addition to our Chamber Ambassador program and we are excited to feature Micha this month.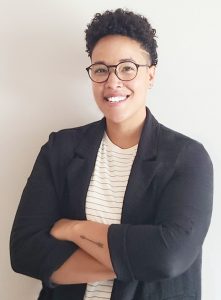 Tell us about your background.
Though my path has pivoted, my journey has always been people, connections, and conversation. I have struggled both with my internal alignment regarding who I am, who I wanted to be, and how I wanted to do it and my external alignment in not being the right fit for an organization. This journey has led me to encourage, guide, motivate and empower using this platform.
Valued, LLC empowers organizational culture by helping teams look inward to best serve outward. Working with organizations to achieve internal and external alignment we can help enhance trust, collaboration, and customer needs for a long-term sense of organizational identity and shared understanding.

Our biggest display of success comes in hearing from the lives we impact. Learning that our message resonates through receiving emails and messages from people who attend our speaking engagements and workshops keeps our fire lit. If we can help one individual be more comfortable within their own skin, or one individual understand a perspective or life experience different than theirs, we are achieving success.
How are you involved / how have you been involved in your community? 
I am an advocate for the LGBTQ+ community, the black community, and women. I have worked to educate, spread knowledge and awareness on behalf of the LGBTQ+ and Black Community through speaking engagements and workshops with DEI efforts.
Why did you join and get involved with the Chamber?
I joined the chamber to better support and contribute to the LGBTQ+ Community. After attending my first Coffee Connections I knew how supportive the Chamber was and I was in the right place. My wife and I moved to the KC Metro during the COVID shutdown in 2020 and the Chamber has been so valuable in creating relationships and meeting so many amazing people.
What/why did you join the Ambassador program? 
 The ambassador program has allowed me to help on a more hands-on level and create strong, meaningful relationships. This program has also allowed me to be better and more directly connected to the Chamber.
What advice do you have to someone that is curious about getting involved with the Ambassadors or the Chamber? 
If it's calling to you in any way, do it. It's a great group working towards significant influence. I have been part of a team my entire life, and there is something so powerful in bringing so many different individuals together to work towards a common goal. This group is sensational in helping others and businesses.
What benefits have you received from being an Ambassador?
I have made so many connections and met so many people through being an Ambassador. This Chamber has relationships as its roots and everything else amazing grows from there. It has been very easy and genuine to build relationships through the Chamber. The follow through, and sincerity in this community of people has been so uplifting and empowering.
Why do you think businesses should join the LGBT Chamber of Commerce?
The networking benefits alone are more than enough of a reason! More importantly, the support and awareness the business gives and receives by joining the LGBT Chamber is what allows this community to thrive in resources and opportunity.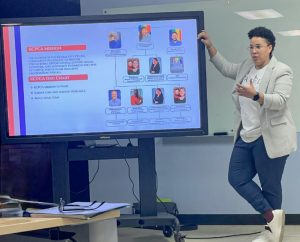 About the Ambassadors: The Ambassador Program consists of over 30 chamber members who work with current and prospective members to ensure they feel welcomed, engaged, and connected across all Chamber events, programs, and committee work. The Ambassador Program is an integral part of the chamber with volunteers at every chamber event. This group works hard to better understand the needs of our members in order to offer new ways to best leverage chamber benefits and strategically network them with other members. To learn more, click HERE. 
Contact Information
For all general and media inquiries, please contact the office of the Executive Director of the Mid-America LGBT Chamber of Commerce.