The Ambassadors are proud to recognize Ken Strickland as the February Ambassador of the month.
Ken is a friendly face around the Chamber, always being willing to lend a helping hand, welcome folks to our event, and we are excited to highlight Ken this month.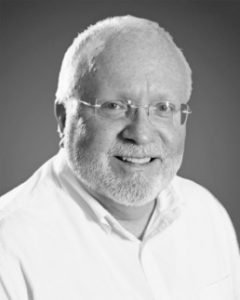 Tell us about your background.
I currently serve as the ReStore Volunteer Engagement Manager for Habitat for Humanity of Kansas City. Over the years, my work in organization, facilitative management, strategic planning, community engagement, marketing & development has given me the great privilege of giving back to my community. I was instrumental in the organizing and launching of Habitat's first Pride Build project in 2019. Together with LGBTQ+ community members and allies, Pride Build is building an inclusive Kansas City community where every individual and family has the opportunity to obtain and maintain fair & equitable housing. In the three years since its inception, Pride Build has developed with support from multiple corporate and small business sponsors and supporters, including the Mid-America LGBT Chamber.
My degree in music education from Lindenwood University has allowed me to be involved in some sort of performing arts throughout most of my life and I'm proud to have combined my education + my experience and passions with my community work, including my work with PerformOUTKC and Fountain City Performing Arts. I am a founder and board member of PerformOUTKC, a theater program of LGBTQIA+ teens. I believe that communities can be united and healed by the power of young people sharing their voices through the arts. PerformOUTKC is now one of the programs managed by Fountain City Performing Arts, an organization of which I'm grateful and excited to have served as the Vice President of the Board of Directors for the last five years.
My other community experience includes being involved with the Heartland Men's Chorus, AIDS Walk KC, the Human Rights Project and singing in multiple choruses.
Why did you join and get involved with the Chamber? 
I greatly support the mission and vision of the Chamber which was my first draw to getting involved. Advocating, promoting & facilitating the success of the LGBT business community and its allies deeply resonates with me. As I increased my involvement, I found that the programs we provide are thoughtful, inspiring and professional and our opportunities to network are vast. Our group of Kansas City professionals are welcoming, friendly and focused on making Kansas City a better place for all, and that's something I'm proud to be a part of.
Why did you join the Ambassador program? 
I've been an Ambassador since 2018 and I love it. It's a great way to be engaged and serve the Chamber and it's an easy way to meet great people and grow my network of other inclusive Kansas City professionals. Furthermore, the Ambassador program has allowed me to discover new ways to collaborate and create opportunities for community building.
What advice do you have for someone that is curious about getting involved with the Ambassadors or the Chamber? 
I would just tell them to "Jump In!" We are a wonderful, hospitable group of people who have a good time!
What benefits have you received from being an Ambassador? 
The benefits from Ambassador involvement have been numerous. I have become more comfortable in social settings and meeting new people. I have met even more great folks through the Ambassadors. I truly believe that volunteering is so beneficial for personal development and your mental and emotional health. The Ambassadors have been such a fulfilling volunteer opportunity for me and I look forward to continued years being involved.
Why do you think businesses should join the Mid-America LGBT Chamber of Commerce? 
While there are a multitude of reasons to join the Chamber, here are my Top 5:
The Chamber's mission & values. The Chamber truly lives out its mission of advocating, promoting & facilitating the success of the LGBT business community.
The Chamber's programs. There is something for everyone at the Chamber, and our programs are great for personal development, professional development, networking, education and more.
The Ambassadors! We are fun folks who truly care about your success and are so welcoming at each and every event for both new faces and old friends alike.
Chamber Leadership. Our Board of Directors + Chamber staff is top-notch and they work hard to make sure that the LGBT business community is seen and heard in Kansas City.
The Chamber resources. The Chamber provides great resources for members, including our programs (earlier mentioned), connection with other groups in Kansas City, advocacy in the public policy space and assisting members with the LGBTBE® Certification Program, among others.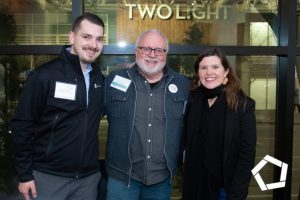 About the Ambassadors: The Ambassador Program consists of over 30 chamber members who work with current and prospective members to ensure they feel welcomed, engaged, and connected across all Chamber events, programs, and committee work. The Ambassador Program is an integral part of the chamber with volunteers at every chamber event. This group works hard to better understand the needs of our members in order to offer new ways to best leverage chamber benefits and strategically network them with other members. To learn more, click HERE. 
Contact Information
For all general and media inquiries, please contact the office of the Executive Director of the Mid-America LGBT Chamber of Commerce.