The Ambassadors are proud to recognize Joey Schmidt as the May Ambassador of the Month.
Joey is a fun ray of light at Chamber events, always willing to connect people and create community. We are excited to feature Joey this month!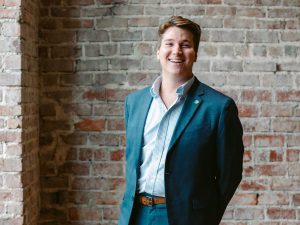 Tell us about your background. 
I got my undergrad at the University of Louisville in Louisville, Kentucky, with a Bachelors in Studio Arts. I made my way to Kansas City through the Teach for America program where I taught 5th grade English for 2 years at the Ewing Marion Kauffman School. During that time I also got my Masters in Secondary Education from the University of Missouri St Louis. I have been at Big Brothers Big Sisters Kansas City since 2019 and serve as the Manager of Corporate Partnerships.
How are you involved in your community?
I was a Big Brother for two years through the BBBS program. Currently, I give my time to multiple organizations. I serve as the Secretary for the Mesner Puppet Theater Board of Directors here in Kansas City. Mesner inspires play and cultivates connections through puppetry, with touring shows, educational programs, professional services and more.
In addition, I am an Executive Board Mentor for the RaiseRED Dance Marathon at the University of Louisville. RaiseRED is an 18-hour dance marathon and the largest student-run philanthropic organization of the University of Louisville. Not only is raiseRED a Children's Miracle Network Dance Marathon, but it is also a year-round effort which focuses on raising awareness and funds for children, families, and professionals fighting pediatric cancer and blood disorders. (From the UofL website)
And of course, I'm an Ambassador for the Chamber!
Why did you join the chamber or get involved if your organization was already a member?
It was truly through referral and word-of-mouth in the community. I kept hearing how amazing the Chamber was and how it was a great way to get to know the local queer community!
Why did you join the Ambassador program?
It was important to me to make others feel as welcome to the Chamber as I have felt in my experience. I wanted to have a hand in making the Chamber as welcoming of a space as possible. And - it goes without saying - but it's fun!
What advice do you have to someone that is curious about getting involved with the Ambassadors or the Chamber?
Lean in! Take the opportunity to get involved and enhance your experience. The Chamber is what you make of it. It has a ton of amazing resources that you can utilize to create a safe and inviting space for your employees.
What benefits have you received from being an Ambassador?
The benefits have been plenty, both from a personal and professional standpoint. Professionally, I've been able to introduce colleagues to the Big Brothers Big Sisters program which has resulted in volunteers and new bigs. On the personal standpoint, it's the connection, community and I've met some great pals!
Why do you think businesses should join the LGBT Chamber of Commerce?
The Chamber is truly a great place to have fun doing important work. There's something for everyone and is such a warm environment to grow your business in.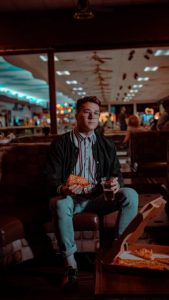 About the Ambassadors: The Ambassador Program consists of over 30 chamber members who work with current and prospective members to ensure they feel welcomed, engaged, and connected across all Chamber events, programs, and committee work. The Ambassador Program is an integral part of the chamber with volunteers at every chamber event. This group works hard to better understand the needs of our members in order to offer new ways to best leverage chamber benefits and strategically network them with other members. To learn more, click HERE. 
Contact Information
For all general and media inquiries, please contact the office of the Executive Director of the Mid-America LGBT Chamber of Commerce.