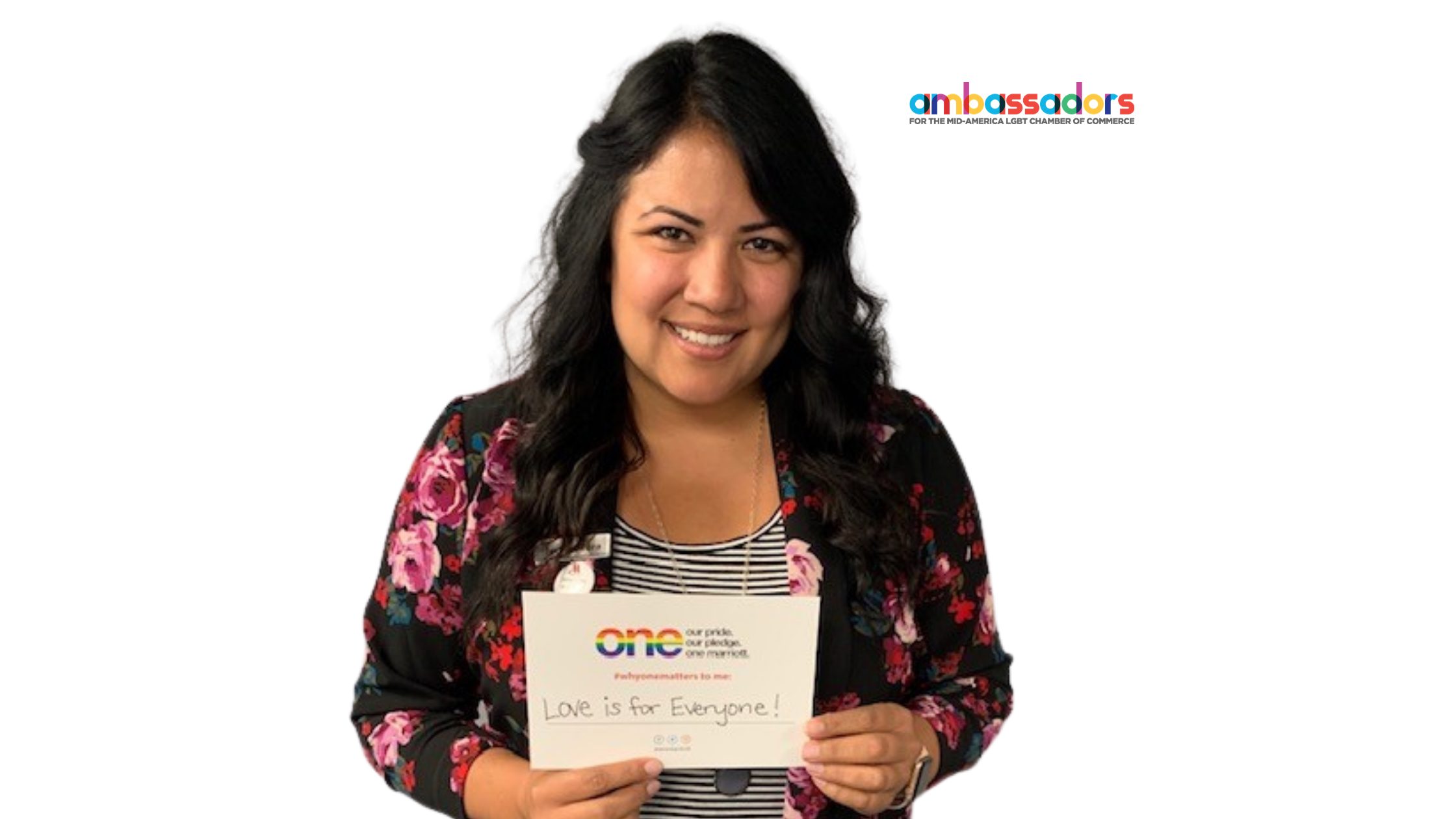 The Mid-America LGBT Chamber's Ambassadors Program recognizes Jenny Mora as January's Ambassador of the Month
Kansas City, Missouri | Wednesday January 6, 2021 – The Ambassadors are proud to celebrate Jenny Mora and all of her contributions to the Chamber and to the Ambassadors. Jenny is the Director of Sales & Marketing for The Hotel Group at the Kansas City Airport Marriott. After graduating college, she did not even know that hotels had a sales department when she landed her first job.
However, 16 years later, she has worked her way from being the assistant to being the leader of her own sales team. Throughout her career, she learned that the sales department is a vital organ to a hotel's success to ensure profits are achieved and budgets are surpassed.
Since a young age, where basketball and volleyball were life, Jenny has always enjoyed being a part of a team. She leads her team now by example and stresses the importance of a strong work-life balance. She is proud of the environment she created where everyone comes to work to not only work hard, but also to have fun doing it.
Unfortunately, due to COVID, her sales team is not as large as it once was and most of her amazing sales managers, like many hoteliers, lost their jobs.  She hopes one day to have a rock star team back in place. Until then, she is juggling numerous roles and is relying on skills obtained throughout her career to balance her new normal.
When Jenny is not juggling at work, she is busy hanging out with her boyfriend of 3 years, Anthony, and his two kids, Quaid (11) and Karly (8).  She loves taking on the stepmom role and enjoys going to every soccer, baseball or football game they might be playing on the weekends.
She graduated from the University of Oklahoma so she is a huge OU fan and loves college football. Born in Kansas City and raised in Blue Springs, MO, she also grew up a Chiefs fan and has a special place in her heart for not only the Chiefs, but for Kansas City as a whole. She loves how much it has grown over the years and is excited to see where Kansas City will be in the future.
Why did you join the chamber or get involved if your organization was already a member?
I have always felt strongly about being an ally to the LGBTQ+ community. I will never forget the day when my oldest sister explained to me that she never felt "that way" about boys like she did about girls. I think I was about 10 years old but I remember thinking, "So what?  I still love you." and I wish everyone in the world could have that same reaction when someone tells them he or she is gay. I am thankful to work for companies like The Hotel Group and Marriott who support this community. When I became the Director of Sales I was able to choose the organizations I wanted to be involved in and I knew the Mid-America LGBT chamber was the one for me.
What/why did you join the ambassador program?
Our hotel had already been a member for a couple of years prior to me becoming the active member (in the chamber) for the hotel. I knew that if I wanted to meet more people and really learn all I could about the chamber, I needed to dive right in…so I did!
What advice do you have to someone that is curious about getting involved with the Ambassadors or the Chamber?
Just do it! Lol! But seriously, this chamber is so caring and wants to be advocates as much as possible for all of its members. I don't know any other chamber who took the time to call all of its members during the pandemic to "check in" on them. I'd tell anyone who is curious about getting involved to attend one of the many (now virtual) events the chamber hosts. From there, reach out to any ambassador or even Suzanne, to get more information on what they are curious about. Everyone is approachable and eager to assist current and new members.
What benefits have you received from being an ambassador (networking/friends/experiences/leads for work, etc.)?
I have met new friends and made connections that will help me be a better ally to my friends and family.
Why do you think businesses should join the LGBT Chamber of Commerce?
Not only could you gain business opportunities and enhance your network, it is a great way to show your support of the LGBT community for your own LGBT employees!
About the Chamber
The Mid-America LGBT Chamber of Commerce is a proud affiliate of the National LGBT Chamber of Commerce and exists to advocate, promote and facilitate the success of the LGBT business community and their allies through the guiding principles of equality, inclusion, economics and education. Through membership, networking, and professional development programming, the Chamber seeks to foster a more inclusive and vibrant economy in Kansas City and the surrounding region.
Contact Information
For all general and media inquiries, please contact the office of the Executive Director of the Mid-America LGBT Chamber of Commerce.