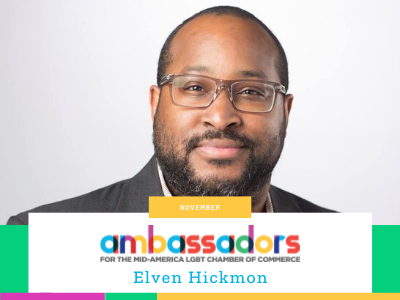 The Ambassadors are proud to recognize Elven Hickmon as the November Ambassador of the month.
Kansas City, MO | Tuesday, November 23, 2021
If you've been to a Chamber event, chances are you've seen Elven Hickmon. Often the first face you see at our events, Elven has served as an Ambassador for five years. We look forward to many more years of Elven's friendly face and giving spirit.
Tell us about your career path.
I grew up in Kansas City, Kansas, so I am local through and through. Initially pursuing a degree in music education, I ended up receiving my Bachelors in Arts & Science from Kansas State University. My professional background is varied, from working in the financial sector to group life insurance and most currently in human resources. Currently, I work in regulatory & operational compliance for the Kansas City Southern Railway Company.
How have you been involved in your community?
Always having a love for music (I started playing in fourth grade and was in the world re-known Stallion Marching Band) my community involvement started with church choir and as a former member of the Heartland Men's Chorus (HMC).
Through my journey with HMC, I realized the significance of music, community and how one can use music to build community. This led to my contribution as being one of the founding members of PerformOUTKC, a theater program for LGBTQIA+ teens. In 2018, I wanted to combine music and theater and founded Fountain City Performing Arts. Fountain City Performing ARts is now the managing organization for SingOUTKC youth chorus, PerformOUTKC and OUTLoudKC, a new rhythmic drumming ensemble.
I have always enjoyed the gift of music and art and this has allowed me to give back to young music & theater enthusiasts looking for a safe, welcoming space to learn and grow creatively without prejudice or judgment.
Why did you join the chamber or get involved if your organization was already a member?
My former employer, Sprint was one the chamber first corporate sponsors which allowed me to attend events in 2014. Within the same year, I started the initial foundation work to form a youth performing arts program for LGBTQ+ teens and through my chamber involvement, it offered the opportunity to meet like-minded small business entrepreneurs.
What/why did you join the ambassador program? 
After a year of attending networking events and learning about all the programing the chamber offered, I decided it was time to get involved, get to work and give back as my individual commitment to the chamber others considering joining. While trying to figure out the best fit to pay it forward, the ambassador program being the face of the chamber at events and working in member engagement through follow up communications was where I wanted to start my journey. That year was 2016 and I have been fortunate to serve in this capacity for five years.
What advice do you have to someone that is curious about getting involved with the Ambassadors or the Chamber?
My advice is simple. If you're looking for a place to belong, a safe space to explore what individual growth could look like for you and if you're open to meeting and networking with others that are equally aligned with that philosophy, the chamber is a great source of aspiration, empowerment, education and advocacy.
What benefits have you received from being an ambassador? 
Although I haven't taken advantage of most of the programming offered, my tenure with the ambassador program and previously engaged on the diversity & inclusion and board nominating committee, that experience alone has been quite extraordinary in both my personal and professional life. The engagement, energy and overall experience is quite remarkable to someone by volunteering their time with fellow ambassadors.
Why do you think businesses should join the LGBT Chamber of Commerce? 
I would start by saying I'm very excited that we're having conversations around diversity, equity and inclusion in every aspect of life and business. I truly believe if a business and/or organization that is true to their employee population and community, DEI is absolutely needed and I would say quite "relevant" to the success of your business.
As such, an active and engaging membership with the Mid America LGBT chamber is a great start in charting that course of relevancy in creating a diverse work environment, which leads to individual and personal inclusion…this goes back to what I mentioned before with regards to having a place to belong. But more notably, businesses would experience a diverse group of individuals that may share similar interest leading to "meaningful" partnerships or collaborations you don't get from traditional or status quo chambers.
Is there anything else you would like to share with our community? 
I would like to say Thank You to the chamber leadership, my fellow ambassadors and our business partners for the opportunities to continue to serve and I wish Mid America LGBT chamber "our chamber" continued success.
Contact Information
For all general and media inquiries, please contact the office of the Executive Director of the Mid-America LGBT Chamber of Commerce.