The Ambassadors are proud to recognize Corey Green as the April Ambassador of the Month.
With his signature smile and always willing to lend a hand, Corey Green has become a staple of welcoming friendship at Mid-America LGBT Chamber events. He is a man of many talents and we are excited to feature Corey this month.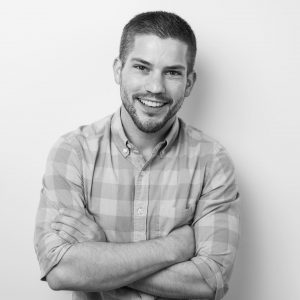 Tell us about your background. 
I broadly call my self a designer as I wear two main hats: designing for Wayne Studio West here in Kansas City and creating data collection systems for the KU School of Business. I opened up Wayne Studio West about a year ago where I design, create, fabricate, and sell original, prints, and curated artwork along with furniture & lighting that I've also designed. 

During the day I work for the KU School of Business where I design the data collection systems, course, and ultimately teach their new required internship course for their professionalism program. The system is projected to collect 30,000+ individual data points every year that will be used to influence program direction, student patterns, and employer patterns year-over-year.
I received my BFA in Industrial Design from the Savannah College of Art and Design where I won a competition and had my Balloon Vases sold worldwide. I decided to travel full time while I started my own company. During that time, I decided to pause that initiative, moved to Atlanta, GA where I was an Art Consultant designing artwork for commercial spaces like hotels, convention centers, and restaurants. You can see my work in several hotel brands across the country.
I decided to move back to the Midwest, landing in Lawrence while I waited out my non-compete. While there I worked for the School of Engineering before making the transition to the School of Business. During that time I started my MBA which will be wrapped up in May 2022, moved to Kansas City during the pandemic to open my studio, and thankfully landed at the LGBT Chamber of Commerce!
Fun Fact - I also own a historic building in my hometown that I've been renovating on the side for several years.
How are you involved in your community?
I'm still newish to Kansas City and have been slowly getting more and more involved. The LGBT Chamber of Commerce has been a great catalyst to meet people, create connection, and find people to collaborate with.
Why did you join and get involved with the Chamber? 
I joined the chamber to develop connections and find a community being a new resident to the city. While I was familiar with Kansas City, I wanted to find a space that was welcoming and to find people to support and who supported the queer and ally community here in KC.
Why did you join the Ambassador program? 
I needed friends, wanted to make an impact, and build a community here in Kansas City.
What advice do you have for someone that is curious about getting involved with the Ambassadors or the Chamber?
 Ask yourself what you want of the program and ask current Ambassadors if it aligns up with your goals. For me I need a catalyst and common rallying point to build friendships and the Ambassador program is just that. It's a great opportunity to put yourself in front of a lot of people quickly and create connections.
What benefits have you received from being an Ambassador? 
Networking, friends, experience - connections to grow my business. I've received all these benefits and more. I'd say the biggest benefit is that it has helped me find my place here in Kansas City as both a business and a person. I know the community better, and I feel more grounded because of the connections I've made through the Chamber.
Why do you think businesses should join the LGBT Chamber of Commerce? 
Joining the LGBT Chamber of Commerce really signifies that as a business this is a space where you are welcome, that they see you, and they want to be involved with creating a better day-to-day life for you.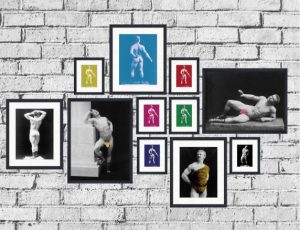 Wayne Studio West just launched their collection release of "Hey Eugen" with 9th & State (new Chamber member!). Eugen Sandow is often referred to as the "original body builder" and the images were reimagined to be more tongue-in-cheek, yet still classy. The pieces will be on display with some limited-edition embroidery canvas designs through the end of May! You can check out the pieces in-person.
About the Ambassadors: The Ambassador Program consists of over 30 chamber members who work with current and prospective members to ensure they feel welcomed, engaged, and connected across all Chamber events, programs, and committee work. The Ambassador Program is an integral part of the chamber with volunteers at every chamber event. This group works hard to better understand the needs of our members in order to offer new ways to best leverage chamber benefits and strategically network them with other members. To learn more, click HERE. 
Contact Information
For all general and media inquiries, please contact the office of the Executive Director of the Mid-America LGBT Chamber of Commerce.