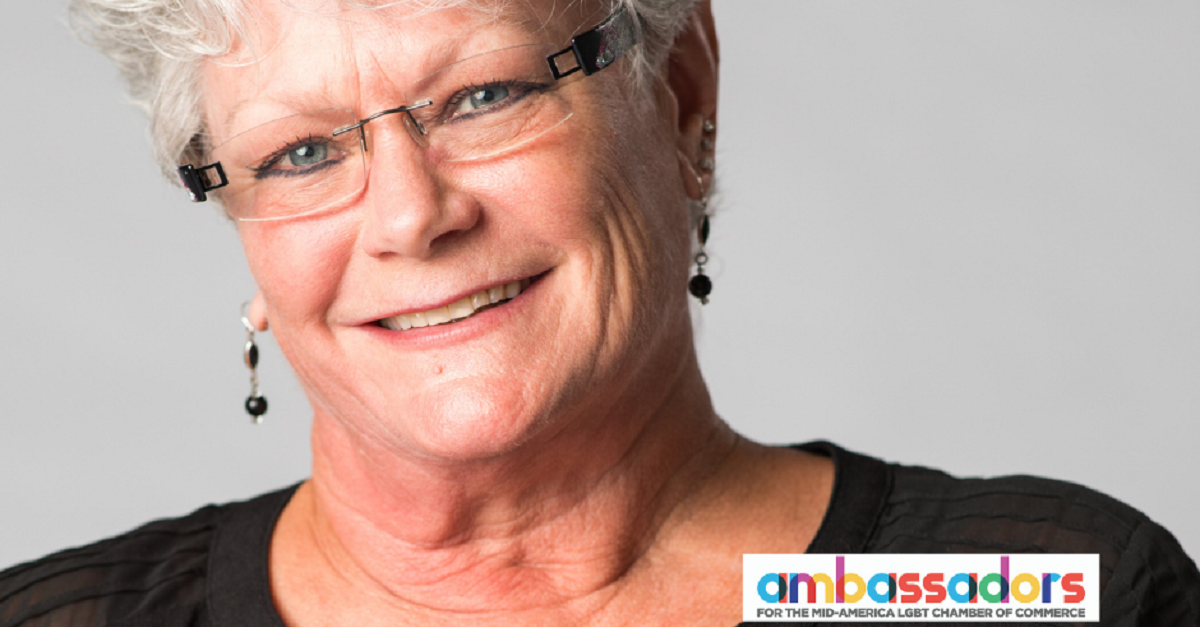 The Mid-America LGBT Chamber's Ambassadors Program recognizes Belinda Manos as October's Ambassador of the Month
Kansas City, Missouri | Friday, October 16, 2020 – If you have ever been to a Mid-America LGBT Chamber of Commerce event, there's a 98% chance you've met our October Ambassador of the month, Belinda Manos. Belinda has been a huge ally and advocate for the Chamber over her time since the chamber was founded. She is a founding member of the Ambassadors, she assisted in the transition to virtual events, and is known to be a friendly face in the crowd. To many of the members, she is the "Chamber Mom" we always wanted and we are excited to celebrate her this month!
A Kansas City, Missouri native, Belinda is no novice to hard work. She has filled many roles such as a co-owner/operator of a grocery store, Operations Supervisor for 11 Paper Warehouse stores, a stay at home mom for 10 years, secretary for Parents As Teachers in the Lee's Summit School District, Office Manager, Dispatcher/CSR, and Administrative Assistant.
In her volunteer roles, she was a previous Boy Scout leader and committee chair, AIDS Walk steering committee member, AIDS Walk Memorial team leader, and current AIDS Walk co-chair. She is the proud mother of two Eagle Scouts, has 3 cats, 1 grand cat, and 1 grand dog. Belinda and Dan, her husband of 31 years, recently retired in July. They love spending time at their cabin at the Lake of the Ozarks and the farm in Smithton, MO.
Get to know Belinda:
Why did you join the chamber or get involved if your organization was already a member?
My son had recently come out and I had started a new job. I was told that I would need to join some type of networking group and I figured if it was something that I was going to have to do on my own time that it would be something that I enjoyed and that I believed in. I reached out to my LGBTQ+  friends and asked them if there were any networking or chamber groups that were available. As a mom and fierce ally, I wanted to make my actions count.
Why did you join the ambassador program?
I joined the Ambassador program when it first started because it seemed like a natural progression of what I had already been doing after I had attended my second B2B. I love to make people feel welcome and meet new people. I loved inviting people to what I thought was a great organization and as an ally, I really thought it was important still get all types of people and businesses involved in the chamber. I love their vision and the vision I have of a city, people, and businesses coming together.
What advice do you have to someone that is curious about getting involved with the Ambassadors or the Chamber?
Joining the chamber, well, back in the old days I'd say please come to an event and I would be happy to make introductions and you could hang out with me for a while! I might also suggest that someone bring a friend or co-worker if they are not quick to meet new people. It can be kind of nice to have a buddy to experience an event with. As for becoming an ambassador, I would highly recommend it to anyone. Whether you are a "people person" or someone looking to grow and change outside of your comfort zone, it's a really great and safe place to do that. The chamber is very welcoming, and you are lucky to meet some very interesting business owners and people that work in our community.
What benefits have you received from being an ambassador (networking/friends/experiences/leads for work, etc.)?
I have made a lot of contacts who turned out to be wonderful customers. I am a very social person and I loved being able to meet new people from different backgrounds with different experiences. I enjoyed going to the different businesses, non-profits, and workplaces to get a hands-on, bird's eye view of what actually transpired in their day-to-day jobs. And I especially made some fabulous friends! I miss them so! I am looking forward to seeing all my people once it's safe to do so.
Why do you think businesses should join the LGBT Chamber of Commerce?
Why not?! Joining the chamber shows others that, number one, you are already in the community or you are an ally and a supporter of the community. We can make a statement for change and acceptance by becoming involved members. There are still some barriers and issues that need to be addressed and changed. The LGBT community is also very loyal and if they find value for their dollar and acceptance they can be wonderful, supportive customers.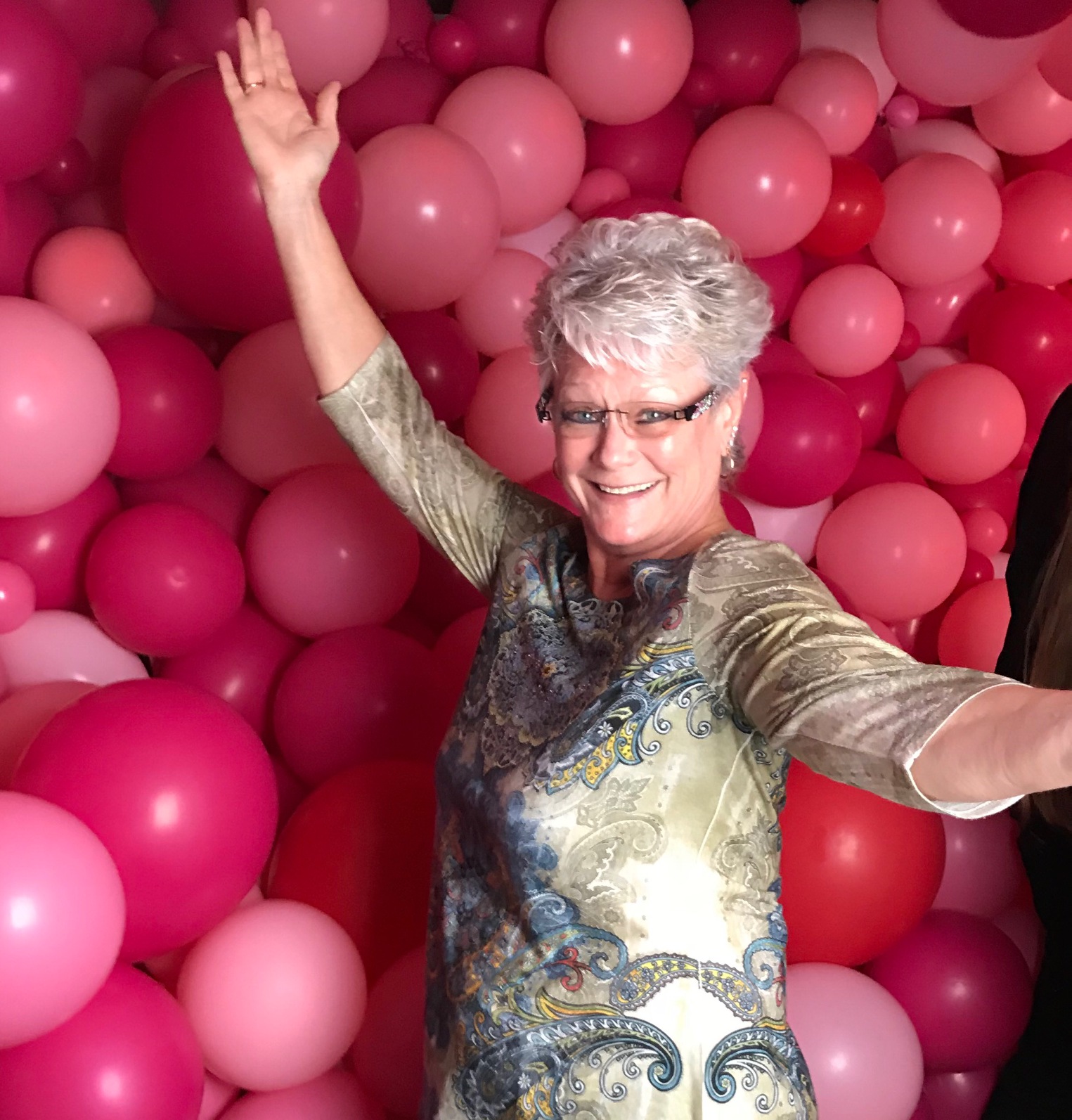 About the Chamber
The Mid-America LGBT Chamber of Commerce is a proud affiliate of the National LGBT Chamber of Commerce and exists to advocate, promote and facilitate the success of the LGBT business community and their allies through the guiding principles of equality, inclusion, economics and education. Through membership, networking, and professional development programming, the Chamber seeks to foster a more inclusive and vibrant economy in Kansas City and the surrounding region.
Contact Information
For all general and media inquiries, please contact the office of the Executive Director of the Mid-America LGBT Chamber of Commerce.