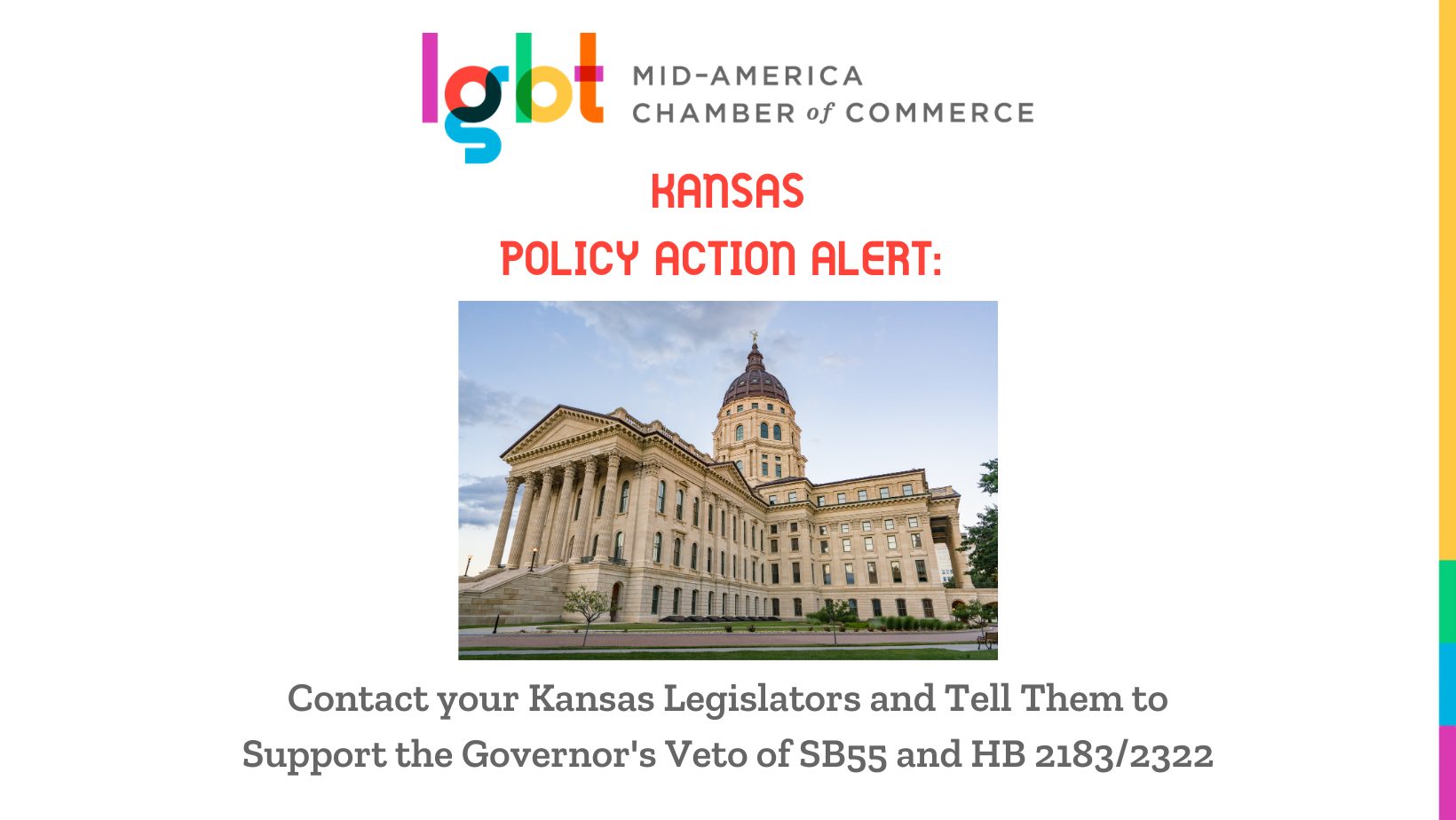 UPDATED Noon 5/3/21: The veto override of SB55 was struck down by one vote in the Senate this morning.  The veto of House Bills 2183 and 2332 passed the House and has been sent to the Senate for a vote.
The Mid-America LGBT Chamber of Commerce signed a joint letter urging lawmakers to uphold the vetoes on SB 55 the anti-transder youth sports bill and HB 2183/2332 which limits limit citizen participation in open and fair elections, primarily impacting Black and Latino, elderly, disabled, LGBTQ Kansans, and rural voters.
The letter was written by the Kansas Mainstream Coalition, a non-partisan non-profit grassroots political organization dedicated to creating a culture of informed, enthusiastic Kansas voters, especially in communities that have been routinely undermined in the political process and signed by nineteen other organizations.  The letter was published this morning on social, and to all legislators, mainstream coalition's supporter list, and media.  You can find a copy of the letter here. 
We are asking our members and member representatives to to the following to support the Veto of these bills which harm some of Kansas' most vulnerable citizens and would likely negativly  impact Kansas and its businesses.
Go here to thank the legislators who voted against SB55. These legislators voted against the bill when it came up on the floor, and are being pressured to change their position. Let them know you are grateful for their vote!
Go here to ask the legislators who chose not to vote on the bill when it came up on the floor and are being pressured to vote to overturn the veto to vote to sustain the veto of SB 55
You can send a letter to your Representative using Loud Light's action link asking them to vote to sustain the veto of HB 2183/ 2332.
The Mid-America LGBT Chamber of Commerce is a proud affiliate of the National LGBT Chamber of Commerce and exists to advocate, promote and facilitate the success of the LGBT business community and their allies through the guiding principles of equality, inclusion, economics and education. Through membership, networking, and professional development programming, the Chamber seeks to foster a more inclusive and vibrant economy in Kansas City and the surrounding region.
Contact Information
For all general and media inquiries, please contact the office of the Executive Director of the Mid-America LGBT Chamber of Commerce.