The Bridge 90.9 Features LGBT Business Enterprise (LGBTBE) Certified Businesses the Entire Month of June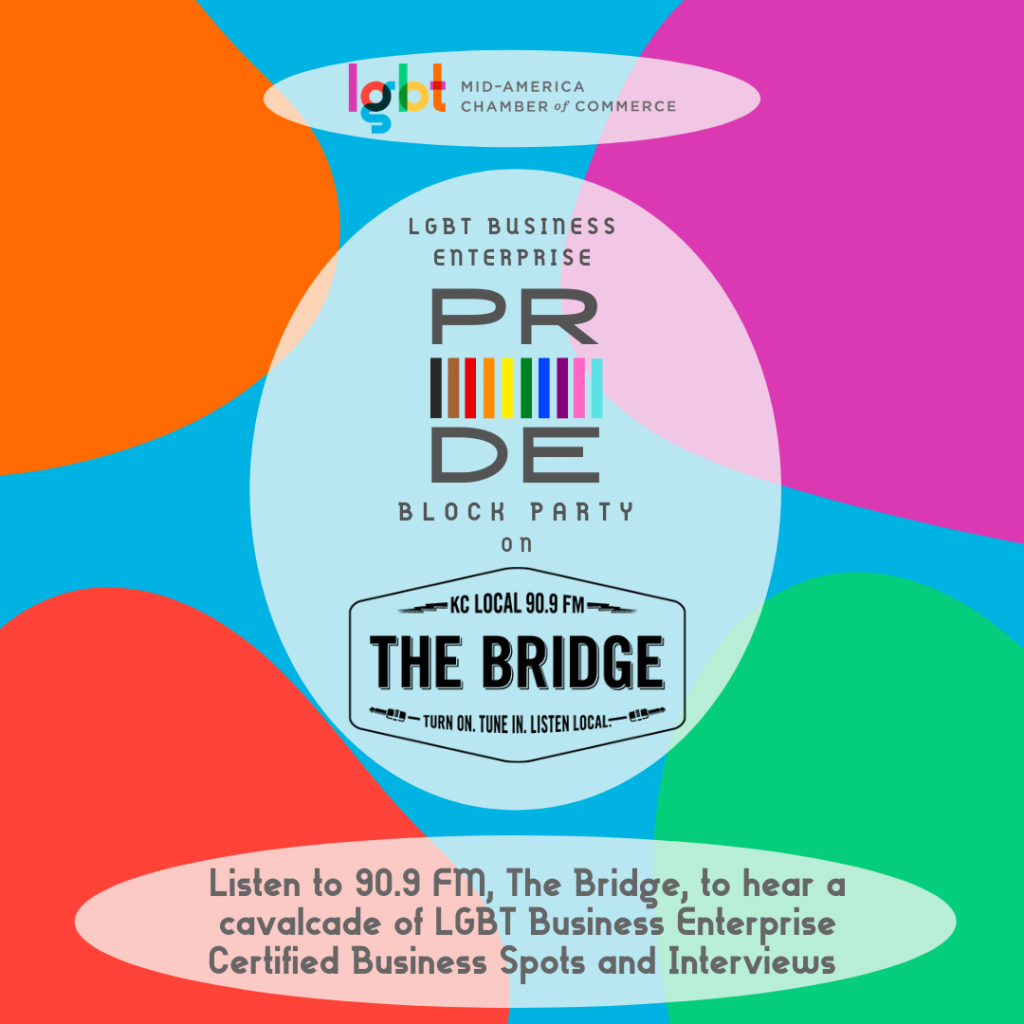 ---
---
Kansas City, Missouri - The Bridge, Kansas City's listener-supported, non-commercial NPR music radio station partnered with the Mid-America LGBT Chamber of Commerce to provide an amazing opportunity to local Mid-America LGBT Chamber of Commerce Businesses which are LGBTBE certified.
The station generously offered twenty-eight 30 second spots for twelve LGBTBE certified businesses and will feature three of those busines during at 7:45 am each Friday on Mornings with Bryan Truta.  Each business received the advertising package which would normally cost $1,400.00 for free.
Julie Wallen, the Director of Corporate Relations, said, "This is one way we give back to our community and during Pride month we wanted to feature LGBT Businesses".
Stephen Hills, the Chamber's Director of Diversity stated, "We are enormously appreciative of this very generous offer from our member partners at the Bridge.  It gives us the opportuntity to call more attention to our Chamber's nationally certified LGBT business members."
The LGBTBE is a nationally recoginized certification granted by the National LGBT Chamber of Commerce (NGLCC) for 51% or greater owned LGBT businesses.   The Mid-America LGBT Chamber is the local affliate of the NGLCC.  Chamber members receive their certification and annual recertification for free as part of their membership package.  The certification provides LGBTBE certified businesses on opportunity for fair and equal access to the contracting opportunities and economic development programs that drive innovation, create jobs, and promote economic growth.  The LGBTBE also creates additional opportunity to connect with other certified LGBT businesses locally through the Mid-America LGBT Chamber and nationally through NGLCC.
"We are always looking for ways, like the radio spots with the Bridge, to increase the value of LGBTBE certification to our members.  This certification opens a myriad of new opportunities for our LGBT owned businesses", said Mid-America LGBT Chamber Executive Director, Suzanne Wheeler.
The Mid-America LGBT Chamber will be unvieling its first LGBTBE Roundtable this month.  It is an inovative opportunity for LGBTBE certified businesses to get together with our Corporate and Governmental Partners and learn more about how to increase access to contracting and development opportunties.
Listen to 90.9 the Bridge to hear advertisements for the following LGBTBE certified businesses:
Marsha Riley Consulting
Dutzel's Catering
GENEX Therapeutic Solutions
JW Quality Painting
Kyle Danner, Professional Solutions for Family Business
Ronawk
Business Credit Works
Digital Maelstrom
City Market Coffee Roasters
Loquient Technology Services
Toto TV Media
Crum Cleaning
Turn On. Tune In. Listen Local. The Bridge is listener-supported, non-commercial NPR music radio for Kansas City.
In 2013, Kansas City PBS acquired the Triple-A (adult album alternative) radio station broadcasting out of Warrensburg, Missouri. While KTBG 90.9 moved down the road the 60-some miles from Warrensburg to Kansas City, the station's passion for local music, community, and independent voices has remained the same.
In fact, with the power of KCPT behind it, The Bridge has strengthened its commitment to weaving new, rare, and local music into all of our playlists, right alongside familiar hits and classics you know and love. The Bridge connects music lovers with music makers through performances and interviews. As KTBG 90.9, we're out in the community, supporting the musicians, the venues, the listeners.
Our website brings you local industry voices, breaking music news and national music news. No other station does what we do. And nobody else in town plays as much local music as The Bridge. Period.
Our city is a true original. And so is The Bridge.
The Mid-America LGBT Chamber of Commerce is a proud affiliate of the National LGBT Chamber of Commerce and exists to advocate, promote and facilitate the success of the LGBT business community and their allies through the guiding principles of equality, inclusion, economics and education. Through membership, networking, and professional development programming, the Chamber seeks to foster a more inclusive and vibrant economy in Kansas City and the surrounding region.
Contact Information
For all general and media inquiries, please contact the office of the Executive Director of the Mid-America LGBT Chamber of Commerce.