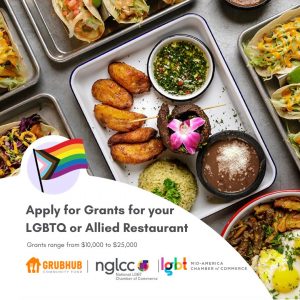 The Mid-America LGBT Chamber of Commerce & National LGBT Chamber of Commerce Team Up with Grubhub For Another Year of Grants to Aid in Growth and Development
February 15th, 2023 | For Immediate Release
Washington, DC -- America's LGBTQ+-owned restaurants and bars serving food will once again find a vital lifeline this year stemming from the ongoing partnership formed by the National LGBT Chamber of Commerce (NGLCC), the business voice of the LGBTQ+ community and certifying body for LGBTQ+-owned businesses nationwide, and Grubhub, a leading U.S. food-ordering and delivery marketplace.
Today the National LGBT Chamber of Commerce opened applications for the NGLCC Community Impact Grant Program, a program made possible by a grant from the Grubhub Community Fund. The grants are expected to range from $10,000 to $25,000 and funds can be used for things like updating security and security protocols, updating/purchasing new equipment, community involvement, marketing and PR services, updating digital/e-commerce presence, purchasing product, staff training programs, employee pay and/or staff incentivized wages, COVID-19 recovery, and maintenance/updating of current infrastructure.
"We often say at NGLCC that if you can buy it, an LGBTQ+-owned business can supply it," said NGLCC Co-Founder & President Justin Nelson. "That is especially true of the LGBTQ+-owned restaurants and establishments across America who kept our communities and first responders fed throughout the pandemic and have been so active in the recovery. We're proud to again partner with Grubhub, with the support from the Grubhub Community Fund, in offering grants to support businesses throughout the nation this round with an even wider scope of opportunities for grant utilization to help them succeed."
"NGLCC has been an incredible partner to Grubhub, and it was a no-brainer to renew this program which has supported so many LGBTQ+-owned businesses across the country," said Dave Tovar, Grubhub's senior vice president of Communications and Government Relations. "We've heard so many stories of how independent restaurants have used these grants to do amazing things for their business and in their communities, and I'm excited to see what new and exciting things come out of the next group of grant recipients."
"Our area is known for its fabulous locally owned LGBTQ+ and allied restaurants.  They are what make our region a foodie's paradise.  We want to see as many grant dollars as possible come to our area.  That will take the effort of everyone letting their locally owned restaurants know that this opportunity is out there", said Suzanne Wheeler, the Mid-America LGBT Chamber's Executive Director.
Once again, under the innovative grant program, the NGLCC has set a goal to allocate 30 percent of the funds to businesses owned by people of color and transgender and gender expansive (TGX) individuals. Between now and March 2023, NGLCC will roll the grant program out regionally.  Applications for the Central US will be open from February 15th, 2023 to March 8th, 2023.  Restaurants wishing to learn more about applying for grants should visit nglcc.org/ghgrant.
The NGLCC's network of more than fifty Affiliate Chambers across America will once again help amplify this grant opportunity to support local restaurants. Those local chambers will again benefit from this initiative's Affiliate Chamber Fund. In addition to supporting local efforts to share the grant opportunity, this fund has and will continue to enable any establishment that receives a grant that is not currently a member of an NGLCC local affiliate chamber to have one year of membership paid.
For more information on the Community Impact Grant Program regarding restaurant eligibility requirements, timelines, how to apply, and more, please visit www.nglcc.org/ghgrant.
About NGLCC
The National LGBT Chamber of Commerce (NGLCC) is the business voice of the LGBT community and is the largest global advocacy organization specifically dedicated to expanding economic opportunities and advancements for LGBT people. NGLCC is the exclusive certification body for LGBT-owned businesses, known as Certified LGBT Business Enterprise® (Certified LGBTBE®) suppliers.
www.nglcc.org @nglcc
About Grubhub
Grubhub is part of Just Eat Takeaway.com (LSE: JET, AMS: TKWY), a leading global online food delivery marketplace. Dedicated to connecting diners with the food they love from their favorite local restaurants, Grubhub elevates food ordering through innovative restaurant technology, easy-to-use platforms and an improved delivery experience. Grubhub features more than 365,000 restaurant partners in over 4,000 U.S. cities.
About the Mid-America LGBT Chamber of Commerce
The Mid-America LGBT Chamber is a proud affiliate of the National LGBT Chamber of Commerce. Our mission is to advocate, promote and facilitate the success of the LGBT business community and their allies.
Through our shared membership, networking opportunities, and personal and professional development programming, we seek to enhance business opportunities for LGBT businesses, and our allies, and foster a more inclusive and vibrant economy in Kansas City and the surrounding region.
Contact Information
For all general and media inquiries, please contact the office of the Executive Director of the Mid-America LGBT Chamber of Commerce.