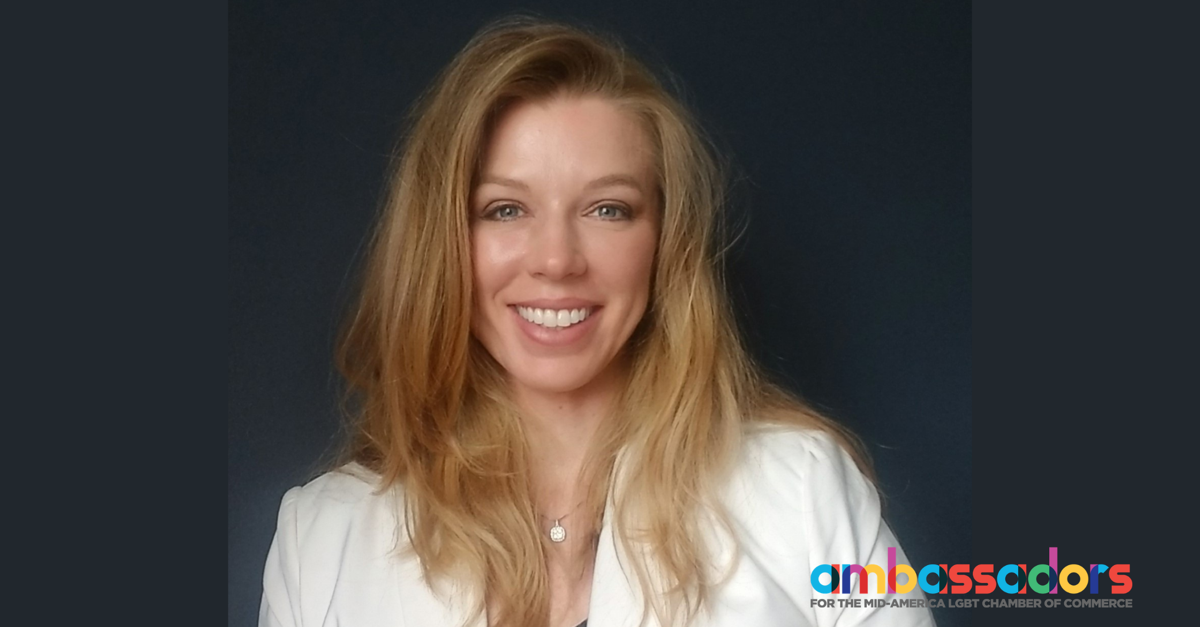 The Mid-America LGBT Chamber's Ambassadors Program recognizes Melissa Feris as November's Ambassador of the Month
Kansas City, Missouri | Sunday, November 29, 2020 – The Ambassadors are proud to celebrate Melissa Feris and all of her contributions to the Chamber and to the Ambassadors. Melissa has been recognized as going above and beyond through her work during the COVID-19 pandemic by personally reaching out to 75+ members. Most of these members are small business owners directly affected by the pandemic, and she tried to understand their struggles and find ways the Chamber can better assist them.
Her fun-loving and compassionate personality brings a warm "knows no strangers" approach when working a room at any chamber function. She is not only a great mom, painter, and saleswoman, but she is a great ally to the chamber, the LGBTQ+ community, and an asset to her fellow chamber members.
Melissa was born in Ohio and moved to Chicagoland when she was in the first grade. Her mom passed away in a car accident when she was 8, so her dad and grandma raised her and her two siblings. These experiences helped Melissa understand hardships and struggles and why it's important to be nice, kind, to love, and be generous.
She moved to Kansas City when she was 19 with a car full of clothes and her best friend Missy who played basketball with her at Park University. When Melissa was 20, her best friend Missy looked at a painting Melissa had created that hung in their living room and told her that she would rather kiss the girl than the boy. She didn't understand why Missy felt she had to share this with her since Melissa was not friends with her because of her sexual preference, but because she loved her as a person. At this moment, she was introduced to the LGBTQ+ community and has been forever grateful!
Melissa has a BA in Fine Art and Graphic Design from Park University where she received a partial scholarship to play women's basketball in 2002. Post undergraduate studies, she operated Melissa's Murals until the fall of the economy in 2008, when she decided to pursue her Graduate degree in General Psychology, graduating in 2012 with a focus on business development and leadership.
She is the CEO of Melissa's Murals, where she not only paints murals but large commissioned artwork on canvases and furniture.
Melissa has 3 teenage boys who are "off the chain!" They are all involved in sports and relationships which keeps her very busy (and stressed). Melissa has a wonderful boyfriend named Steve whom she brings to the events, and whom always says that he would rather attend the LGBTQ chamber than any networking group she is a part of.
Why did you join the chamber or get involved if your organization was already a member?
Kate Nielsen was close to my old supervisor and she encouraged me to join. 
What/why did you join the ambassador program?
After attending one of the events, I enjoyed the community so much that my personality aligned with being on wallflower duty, which led me to become Ambassador. 
What advice do you have to someone that is curious about getting involved with the Ambassadors or the Chamber?
The community is amazing, helpful, fun, but also works hard to generate business for other members. The chamber is always evolving by sharing ideas and listens to other member's input.
What benefits have you received from being an ambassador? (networking/friends/experiences/leads for work, etc)
Not only did I generate business from the chamber, but I also met so many amazing people.
Why do you think businesses should join the LGBT Chamber of Commerce?
Communities that are vulnerable and have been suppressed typically stick together and understand hardship. Through this hardship comes understanding and support for others struggling to succeed. The LGBTQ community strives to help, aid, and support businesses for the sole purpose of giving, loving, and receiving.
About the Chamber
The Mid-America LGBT Chamber of Commerce is a proud affiliate of the National LGBT Chamber of Commerce and exists to advocate, promote and facilitate the success of the LGBT business community and their allies through the guiding principles of equality, inclusion, economics and education. Through membership, networking, and professional development programming, the Chamber seeks to foster a more inclusive and vibrant economy in Kansas City and the surrounding region.
Contact Information
For all general and media inquiries, please contact the office of the Executive Director of the Mid-America LGBT Chamber of Commerce.